2016 Governor's Scholars Honored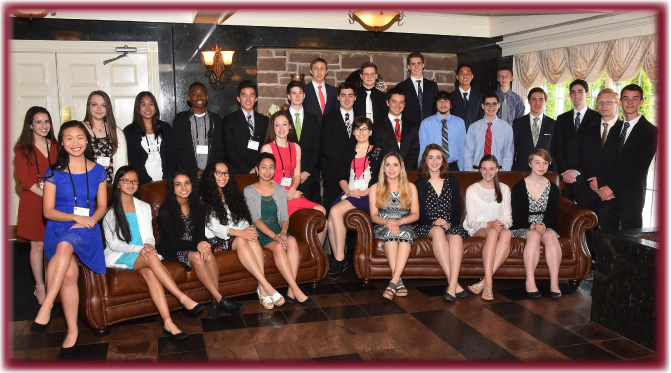 CONNECTICUT'S 2016 GOVERNOR'S SCHOLARS
Thirty of Connecticut's top juniors were honored at the Twentieth Annual Governor's Scholars Luncheon at the Aqua Turf Club on May 19, 2016. Sponsored by Berchem, Moses & Devlin, P.C. and the Connecticut Association of Schools, the purpose of this program is to recognize academically high-achieving students in h
igh schools throughout the state.
Each CAS member high school may nominate one junior in the top 5% of his/her class to enter the Governor's Scholars competition. This year, each nominated student responded in writing to the essay prompt "If you were elected president in 2016, what issue would be at the top of your agenda to address in your first 100 days in office, and why?" Members of the Governor's Scholars Committee, educators throughout Connecticut, chose scholars on the basis of their response to this prompt as well as other factors, including SAT or PSAT scores. In addition to receiving a plaque, each Governor's Scholar is offered numerous gratis academic opportunities by various colleges and universities throughout the state. Additionally, each Governor's Scholar may be eligible for a University of Connecticut Academic Excellence Scholarship.
Deirdra Preis, chair of the Governor's Scholars Committee and housemaster at Fairfield Warde High School, welcomed the scholars and their families and guests. On behalf of the Governor's Scholars Committee, she offered this sentiment: "We particularly enjoy this event because we get to meet in person, the young people whose applications were so impressive." Donna Schilke, president of CAS and principal of Smith Middle School in Glastonbury, expressed admiration for the students, describing the demanding selection criteria for the award: "The selection criteria are demanding; the competition, since almost every high school nominates a candidate, is intense; and the process leads to the selection of an elite group designated as Governor's Scholars." She then introduced Michelle Laubin, Senior Partner at Berchem, Moses & Devlin, P.C., who spoke about her own experiences in college that eventually led her to a successful career in law. Dr. Dianna Wentzell, Connecticut's Commissioner of Education, congratulated the scholars and expressed the hope that they would make important contributions throughout their lives.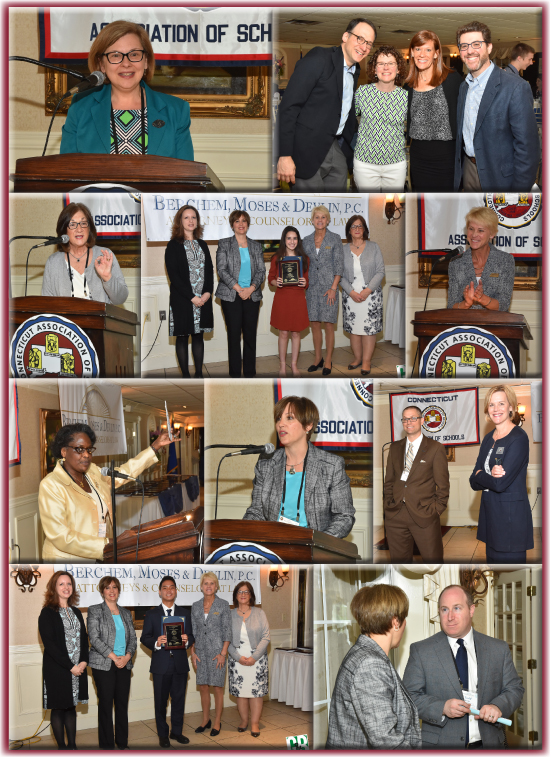 Congratulations to the 2016 Connecticut Governor's Scholars:
Nikita Babushkin, Somers High School
Suvasini Balaji, Amity Regional High School, Woodbridge
David Blain, Harvard H. Ellis Technical High School, Danielson
Charlotte Boland, Valley Regional High School, Deep River
Jason Campe, New Canaan High School
Joshua Chang, Old Saybrook High School
Hannah Chua-Reyes, Mercy High School, Middletown
Calvin Colby, Xavier High School, Middletown
Nicole DiMauro, Immaculate High School, Danbury
Daniel DiPrimio, Watertown High School
Jacob Fried, Trumbull High School
Corey Jalbert, Tolland High School
Paul Jeon, Fairfield Ludlowe High School
Colleen Keenan, Ridgefield High School
Signe Lee, East Hampton High School
David Mantese, East Catholic High School, Manchester
Peter Morrissey, Naugatuck High School
Timothy Noto, Stafford High School, Stafford Springs
Tess Oatley, Holy Cross High School, Waterbury
Kristen Richichi, New Fairfield High School
Natalie Rugg, Lyme-Old Lyme High School, Old Lyme
Emily Schussheim, Staples High School, Westport
Rose Silver, West Haven High School
Paul Tamburro, RHAM High School, Hebron
Kira Venables, Newington High School
Vod Vilfort, Wilby High School, Waterbury
Hilliard Wolfe, Branford High School
Eric Xia, Daniel Hand High School, Madison
Lily Zhong, East Lyme High School
Angela Zhu, Cheshire High School
By Tim Breslin, Assistant Executive Director