PSAT 8/9 Assessment Workshop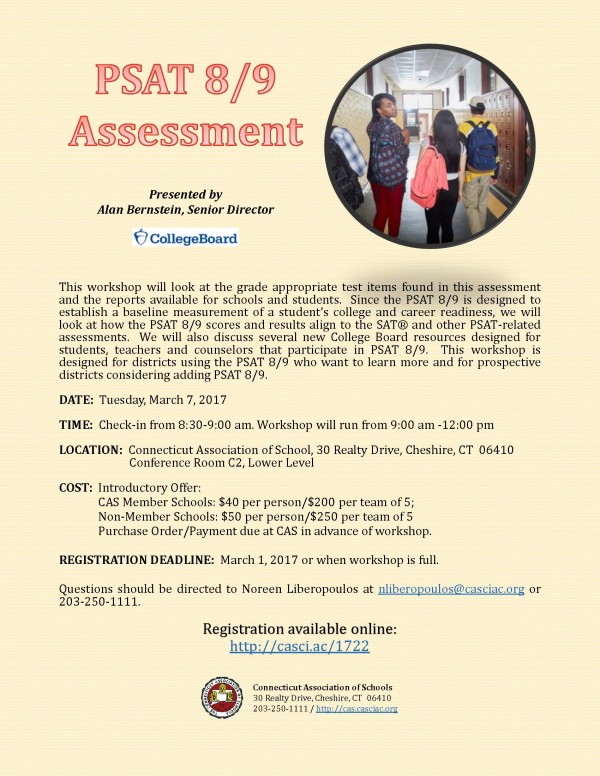 CAS is offering a special workshop on the PSAT 8-9 Assessment featuring Alan Bernstein, senior director for the College Board. Alan's presentation, which will take place at CAS on Tuesday, March 7, 2017, will focus on:
grade appropriate test items found in the PSAT 8/9 and the reports available for schools and students
how the PSAT 8/9 scores and results align to the SAT® and other PSAT-related assessments
new College Board resources designed for students, teachers and counselors who participate in PSAT 8/9.
This workshop is designed for districts using the PSAT 8/9 who want to learn more and for prospective districts considering adding the PSAT 8/9.
—————————————————————————————————–
DATE: Tuesday, March 7, 2017
TIME: Check-in from 8:30-9:00 am. Workshop will run from 9:00 am -12:00 pm
LOCATION: Connecticut Association of School, 30 Realty Drive, Cheshire, CT
(Conference Room C2, Lower Level)
COST:  Introductory Offer –
CAS Member Schools: $40 per person/$200 per team of 5
Non-Member Schools: $50 per person/$250 per team of 5
Purchase Order/Payment due at CAS in advance of workshop.
REGISTRATION DEADLINE: March 1, 2017, or when workshop is full.
————————————————————————————————–
Questions should be directed to Noreen Liberopoulos at
nliberopoulos

casciac

org or 203-250-1111.
[button link="http://casci.ac/1722″ target="_blank" color="#AAAAAA" size="3″ style="1″ dark="0″ radius="auto" target="blank"]Register Online[/button]