CAS Announces 2018 Assistant Principals of the Year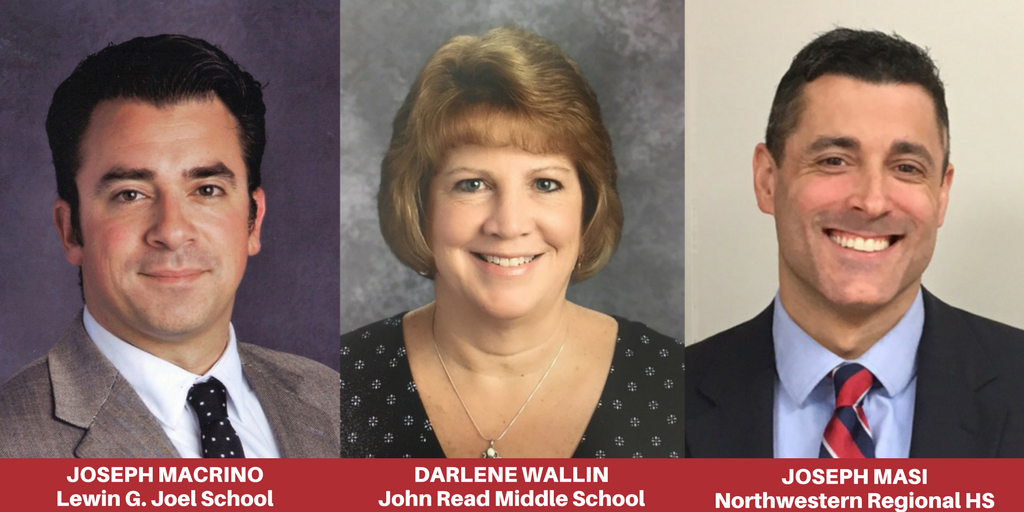 The Connecticut Association of Schools is pleased to announce the winners of the 2018 Assistant Principal of the Year Awards. Congratulations to these outstanding administrators!
• JOSEPH MACRINO, LEWIN G. JOEL SCHOOL, CLINTON •
2018 Elementary School Assistant Principal of the Year
• DARLENE WALLIN, JOHN READ MIDDLE SCHOOL, REDDING •
2018 Middle School Assistant Principal of the Year
• JOSEPH MASI, NORTHWESTERN REGIONAL HIGH SCHOOL, WINSTED •
2018 High School Assistant Principal of the Year
---
Joseph Macrino
Joseph Macrino, assistant principal of Lewin G. Joel School in Clinton, has been named the 2018 CAS Elementary School Assistant Principal of the Year. Superintendent Maryann O'Donnell describes him as an "intelligent, articulate, passionate, student-centered educational leader who demonstrates talent, commitment and character each and every day."
"I am humbled and honored to receive the CAS Elementary Assistant Principal of the Year Award," said Joe when notified that he was the winner. "I share this recognition with the most compassionate and committed team of Joel School staff, parents, students, and community members. It is a privilege to represent them and celebrate our successes in providing students with a rich and inspiring education."
Nominated for the award by Claudia Norman, Joe was chosen for his integrity and ethical leadership, his positive energy and his unerring focus on what is best for children. It was Joe's desire to help kids and make a difference in the world that led him to forsake a promising career in TV and communications to work in public education. Says Joe, "I view my first career as an opportunity to see the real world and better understand what is needed to prepare kids for it."
Though only in his fourth year at Joel, Joe's impact and influence can be seen in all areas of the school's operation and felt by all members of the school community. He leads by example, always exhibiting the characteristics that comprise the school's motto, Joel School ROCKS – Respect, Owning decisions, Caring, Kind and Safe. "No one has had a greater impact on me as a parent or on my child than Joe Macrino," states parent Amy Morrissey.
The high academic and behavioral standards at Joel are nestled in a welcoming and nurturing school climate focused on the social and emotional growth of the students; and, Joe is a big part of that positive culture. Says O'Donnell, "Since his arrival, Joe has committed himself to establishing and fostering a supportive school climate in which all students can develop and grow in a structured and safe learning environment. He has engaged staff in creative ways to enhance the learning environment to be sure that all children are nurtured and that their learning and social-emotional needs are met."
Joe's belief that students can't learn if they aren't emotionally healthy has led to the successful introduction of a number of holistic, student-centered initiatives – such as Second Step, restorative practices and responsive classrooms – that have helped to reduce conflict, engage students in the teaching and learning process, and strengthen relationships among and between students and adults. Remarks music teacher Nancy McAllister, "Joe has sky-high expectations that he applies in a very loving and supportive way. He believes passionately and deeply in educating the whole child."
Joe is regarded by his staff as a charismatic leader who possesses what Director of Special Services Kelly Enoch calls "an intuitive sense of what is right and how to lead." The staff appreciate Joe's open mind, his spirit of adventure and his ability to turn highly effective instruction into joyful learning for kids. He encourages teachers to be creative, to challenge longstanding practices; and, he gives them the support and confidence they need to be risk-takers. "Joe is not afraid to mess things up to make things better," says Lisa Roman, library media specialist. "Joe makes us feel safe to explore," adds McAllister. Joe's "yes, we can" leadership style has helped Joel become a dynamic and deeply child-centered school where innovation and excellence flourish.
Joe, along with fellow elementary assistant principals of the year from throughout the country, will be honored by the National Association of Elementary School Principals (NAESP) at its 2018 Pre-K-8 Principals Conference in Orlando, FL, on July 9-11, 2018.
Darlene Wallin
Darlene Wallin, assistant principal of John Read Middle School (JRMS) in Redding, has been named the 2018 CAS Middle School Assistant Principal of the Year. Nominated for the award by Principal Diane Martin, Darlene is at all times industriously engaged in efforts to promote student success, support staff in the classroom and strengthen ties between home and school. Upon entering the school building and meeting Darlene, which is inevitable given her ubiquity, one is immediately struck by her palpable love for her students and school community. Seventh grade student Elizabeth Daromfel observes, "Mrs. Wallin clearly loves this school. She devotes so much time and energy to all of us. Her presence in the building makes it better. When she isn't here, her absence is felt."
Upon learning of her selection, Darlene stated, "I am so pleased and honored to have been selected for the CAS Assistant Principal of the Year Award. While on the surface this may seem to be an individual award, it is truly a reflection of the wonderful, caring parents and students, the professional, hardworking staff and the supportive administrative team here at John Read."
All who work with Darlene agree that the hallmark of her success is her ability to establish deep personal connections with her students. She fosters special, personalized relationships by showing a genuine interest in their lives and taking the time to hold meaningful conversations with them. "Between every period, Mrs. Wallin is in the hallways walking with the students, talking to them, complimenting them, and finding out how their day is going," says parent Suzanne Romano. Adds her daughter, Hailey, a 7th grader at John Read, "Mrs. Wallin can sense if there is a problem. If I am having a bad day, she can tell."And parents love the personal communications they receive from her. "We get phone calls, not emails, from Darlene. And she reaches out to tell us about good things going on with our children, not just to report a problem," says parent Lorinda Gale.
Darlene's commitment to relationship-building extends with equal success to her staff. Says math specialist Suzen Stewart, "Darlene is engaged with her staff on a personal level. We feel that she is invested in us and we don't want to let her down." "There is a huge trust factor with Darlene,' states social studies teacher Matt Goodwin. "We know she will be there for us."
The exemplar of an adult learner, Darlene is an avid reader and is constantly seeking opportunities for new learning. Says Martin, "Darlene is truly a lifelong learner. She is always reading, attending webinars and conferences, and sharing her new knowledge with others. Continues Martin, "Darlene works closely with staff and, through an atmosphere of mutual respect, she is able to lead them towards improvement." Administrative assistant Cordy Crane praises Darlene's ability to make all members of the school community feel like they make a difference in the lives of the students and in the success of the school. Says Crane, "Darlene makes me feel invested in the school. She makes it feel like we are a team. It makes me go an extra step."
School Climate Coordinator at JRMS since 2011 and newly appointed School Climate Specialist for the five schools that comprise Region 9, Darlene has a talent for interpreting and effectively using school climate data to promote behaviors that directly impact student performance. Darlene led the creation of a school climate committee which consists of students and staff members who meet regularly to work towards improving the school climate and culture. Last year, the JRMS School Climate Committee was named runner-up in the nationwide "Say Something Week," winning in the category of creativity, student spirit and sustainability.
Joseph Masi
Joseph Masi, housemaster at Northwestern Regional High School in Winsted, has been named the 2018 High School Assistant Principal of the Year. Joe was selected for his "all in" devotion to his school community, his students-first approach to building leadership and his commitment, always, to improvement and constructive enterprise. According to Superintendent Dr. Judy Palmer, "Joe Masi is a passionate, wonderful role model with a tireless work ethic. He has abundant professional skills, but it is also who he is as a person that makes him a great leader. He is an exemplar." Principal Ken Chichester considers Joe an invaluable member of the Northwestern administrative team. "Joe is a tireless advocate for kids. He is an out of the box thinker who thinks very creatively to find solutions for student success. We are blessed to have him as an assistant principal at Northwestern."
When informed that he was the winner, Joe remarked, "I am extremely honored and grateful to receive this recognition. This award speaks volumes about the amazing students, staff, parents and communities that make up Northwestern Regional High School."
A highly visible, hands-on administrator with a desire to serve others, Joe is, at any given moment of the day – and oftentimes night – industriously engaged in efforts to make Northwestern a better place to work and learn. His GTD ("Get Things Done") mantra is renowned throughout the school community. Says Quentin Rueckert, Executive Director of Shared Services, "No one works harder than Joe Masi. No one. And it's all about doing better for students." Adds Social Studies Department Chair Robin Waring, "Joe puts everyone ahead of himself. He never lets you down. We know he is there for us no matter what." And, fellow housemaster Gary Franklin, who nominated Joe for the award, made this compelling statement: "Of the many great educational leaders I have worked with in my career, Joe Masi has had the greatest impact on my own professional growth. He has set a standard for professionalism and dedication that inspires me and challenges me to work harder and do more"
A passionate child advocate, Joe comes to work each day with the goal of connecting with, engaging and empowering every student in his building. Senior Zach Austin states, "Students appreciate the fact that Mr. Masi cares about more than just their academic performance, putting great emphasis on hearing students concerns and motions for change, as well as their overall enjoyment of school." Joe considers his greatest accomplishments to be his efforts to elevate the role of students, to give them a voice in the decision-making process and to embolden them to champion themselves and their capabilities. Continues Austin, "Through his leadership of important student groups such as the Student Senate, where all different classes and groups from around the school are represented, Mr. Masi effectively empowers students to advocate for themselves to adults at the school. In an environment where students feel their voices are being heard, I know that we enjoy far more the would-be 'chore' of attending school." Adds his mom, Georgia Austin, "Mr. Masi took Zach to a conference and he came back empowered. He gave Zach a voice."
Parents appreciate Joe's compassionate approach to student discipline which involves helping students change behaviors. Joe ensures that learning takes place in every difficult conversation he has with a student and that the student walks away knowing that tomorrow is a new day and he/she will have a fresh start.
Gina Bunch, the parent of a learning disabled student at Northwestern, appreciates that Joe sees discipline as an opportunity to support students, not just dole out punishments. Says Bunch, "When my son is sent to Joe's office for discipline, instead of dreading it, he knows he can expect to meet with a man who has a heart for kids and who will listen to both sides. I can't tell you how often we hear, 'At least Mr. Masi understands me.'"
Joe's positive impact and far-reaching influence are best captured in these words by Bunch: "The respect the students, parents, and the community have for Joe Masi is astonishing. The students look up to him, the parents appreciate him, and recognize that we are truly blessed that he shows such care for our children. Our community has seen the fruit of his labor."
Joe has been selected by CAS to represent Connecticut in the National Assistant Principal of the Year Program sponsored by the National Association of Secondary School Principals. Joe, along with assistant principals from each of the other fifty states, as well as the District of Columbia and the Department of Defense Education Activity Associations, will compete for the national honor.
Assistant Principal of the Year Award Program Background and Procedures
In this new era of shared leadership, the assistant principal's role has become multi-dimensional. No longer does the assistant principal only deal with student discipline and attendance. Today's assistant principal is often responsible for curriculum and instruction, staff evaluation, community partnerships, public relations, technology, student activities, and many other crucial areas of operation.
The Assistant Principal of the Year Program, sponsored annually by the Connecticut Association of Schools, was established in 1990 to bring recognition to the assistant principalship and to spotlight the critical role that assistant principals play in the education of our youth. The program recognizes outstanding school assistant principals who have succeeded in providing high quality learning opportunities for students. These administrators have demonstrated excellent leadership, commitment to staff and students, service to their communities, and contributions to the overall profession of educational leadership.
Each year nominations are solicited for an Elementary, Middle, and High School Assistant Principal of the Year. Nominees must submit a written application which is evaluated by a selection committee consisting of active and retired principals and assistant principals. Site visits are conducted at the schools of the two highest rated candidates at each level (elementary, middle and high). Winners are then chosen based upon the outcome of the site visit as well as the quality of the written application. The three individuals selected for recognition are honored by CAS at an awards dinner in the fall. Additionally, the elementary school winner and either the middle school or high school winner, but not both, are recognized at the national level by the National Association of Elementary School Principals (NAESP) and the National Association of Secondary School Principals, respectively (NASSP).