New Date for High School Student Leadership UN-Conference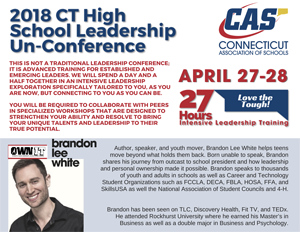 CAS invites student leaders, along with their advisors, to attend the High School Student Leadership Un-Conference featuring inspirational author, speaker and youth mover, Brandon Lee White. Brandon helps teens move beyond what holds them back. Born unable to speak, Brandon shares his journey from outcast to school president and how leadership and personal ownership made it possible. Participants will engage in workshops geared toward 21st century skill development and have opportunities to communicate and collaborate with diverse school leaders from throughout the state.
Registration and all necessary documentation are available below.
Click here to download the conference brochure.
Click here to download the Registration Information Form.
Click here to download the Student/Parent Code of Conduct Form.
Click here to download the Student Medical Form.
Click here to register for the conference.
NOTE: Due to food and hotel guarantees, notification of cancellations MUST be made to CAS no later than 4pm on April 23, 2018. Schools cancelling after this date are still responsible for full payment.
Schools with questions regarding the state conference may contact Anna Simeonidis, asimeonidis

casciac

org, or Jenn Buckley, jbuckley

casciac

org.