Announcing "CT SEES" – A student-led school safety initiative!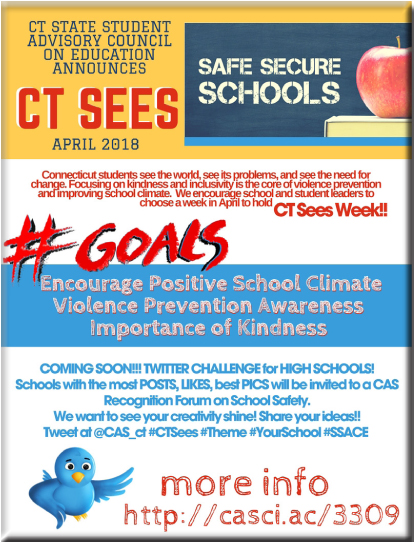 The State Student Advisory Council on Education is pleased to invite schools to participate in "CT SEES," a student-led awareness program to make the state's schools safer and more inclusive!
Connecticut students see the world, see its problems and see the need for change. And, through the "CT Sees" initiative, they are taking action to make change happen.
During the month of April, school and student leaders are encouraged to organize a "CT SEES" week in their own district. The week will include a series of kindness and inclusivity activities associated with improving school safety. Everything needed to get started is outlined in the documents below.
Participants can share the success of their "CT Sees" activities through a Twitter Challenge and the top schools will be invited to attend a round table discussion at the CAS headquarters in May!
Please join this vital awareness campaign!
"CT SEES" INSTRUCTION KIT