Don't Miss End-of-Year Membership Reception!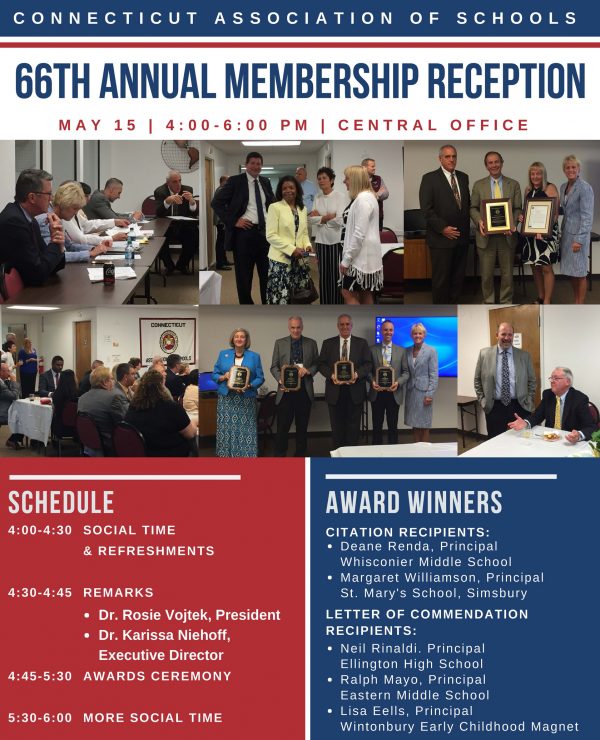 CAS will be hosting its annual spring membership reception on May 15th from 4:00-6:00 p.m. While, historically, this had been an event at which we conducted all of the business required by our Constitution – e.g., bylaw changes, budget, Nominating Committee Report, etc. – we have replaced the traditional business meeting with an end-of-the-year celebration and awards ceremony.
PLEASE JOIN US!
A casual cocktail reception will be followed by a short program including:
remarks from Dr. Rosie Vojtek,
CAS President, and Dr. Karissa Niehoff, CAS Executive Director;

presentation of Distinguished Service Plaques to outgoing board members; and,

presentation of CAS Letters of Commendation and CAS Citations.
All of the business required by our Constitution will be conducted online again this year. Details on the electronic voting process will be forthcoming in late May.
We encourage you to join us on May 15th to celebrate the end of another successful school year and to honor those individuals who have contributed so generously to our work.
There is no charge for this event. Register now!
IMPORTANT NOTE: High school principals are invited to a CIAC membership meeting at 3:15 p.m. to review and discuss the proposed CIAC bylaw changes.