CAS Announces 2018 Principals of the Year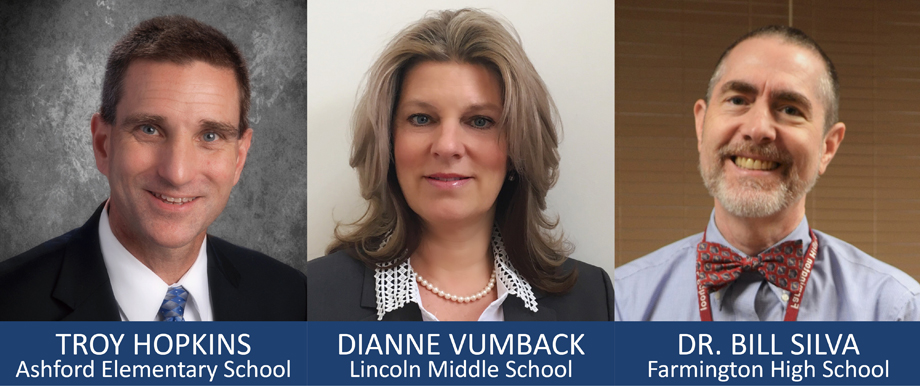 The Connecticut Association of Schools is pleased to announce the winners of the 2018 Principal of the Year Awards. Congratulations to these outstanding administrators!
• TROY HOPKINS, ASHFORD ELEMENTARY SCHOOL •
2018 Elementary School Principal of the Year
• DIANNE VUMBACK, LINCOLN MIDDLE SCHOOL, MERIDEN •
2018 Middle School Principal of the Year
• DR. BILL SILVA, FARMINGTON HIGH SCHOOL •
2018 High School Principal of the Year
---

Troy Hopkins
Troy Hopkins, principal of Ashford Elementary School (AES), has been named the 2018 Elementary School Principal of the Year. A twenty-eight-year veteran educator, Troy is completing his sixth year as principal of AES. He was nominated for the award by Assistant Principal Garrett Dukette who calls him "a central, driving figure in our school system with a dynamic ability for shared leadership, a strong vision and a passion for fostering meaningful student learning."
Upon hearing of his selection for this award, Troy stated, "I feel incredibly proud of everyone in our school community who continually strives for the best education for our learners. This recognition validates their individual and collective efforts to strengthen our school. Honored to receive this recognition, I owe thanks to numerous past and current educators, parents, and students for pushing me to this highlight of my already rewarding career."
Described by Superintendent Dr. James Longo as a "creative leadership force in the building," Troy has been a catalyst for change at AES and his efforts have resulted in innovative instructional practices that have led to increased student engagement and success. His leadership style inspires teachers and students to be risk-takers and promotes exploration in the classroom. Morgaen Donaldson, AES parent and professor of educational leadership at the University of Connecticut, says, "Troy sets a tone that inspires teachers, students, and families to seek new challenges, broaden their horizons, and extend their learning."
Since assuming the principalship at AES, he has spearheaded a number of successful programs which encourage innovation and promote a culture of ongoing learning, engagement and excellence. With the goal of empowering students to take ownership of their education, Troy led AES in the implementation of project-based learning and a challenging STEAM (Science, Technology, Engineering, Arts and Mathematics) curriculum. Students now have choices in their learning, see purpose in it and are aware of their own growth. He has encouraged differentiated learning practices and interdisciplinary instruction which facilitate the development of core competencies that will help students thrive in today's world. Observes Cynthia Ford, director of pupil personnel services, "In the 5 plus years he has been at Ashford School he has helped lead many new initiatives that have driven the school to embrace the 21st century skills needed for our students to be successful citizens in the global community." Morgaen Donaldson, AES parent and professor of educational leadership at the University of Connecticut, states, "Troy was the primary advocate of the movement toward project-based learning and the result, in my view, is students who are more engaged and motivated by their learning. My children are excited to go to school and eager to start their next project. As parents, this is exactly what my husband and I want to see."
AES is a dynamic, creative, student-centered school where invention and excellence flourish. The energy and vitality that permeate the school building are a direct result of Troy's enthusiasm and industriousness. His infectious love of learning and cheerful presence in the classrooms and corridors of AES spill over to his staff and students. Says Cynthia Ford, director of pupil personnel services, "Troy loves going into the classrooms and participating in the instruction. While in the classroom his enthusiasm is contagious and students benefit from what he has to offer as a school leader."Adds Dukette, "It is his boundless excitement and willingness to dive into the work alongside our students and teachers that make Troy such an amazing principal."
According to Longo, every decision Troy makes is filtered through the lens of its impact on student learning. "Whenever we discuss ideas or look at our operation, Troy will always ask, 'How will this impact student learning?' He has always been focused on positive learning experiences for everyone in our school. It is clear to me that every decision is rooted in promoting a joy of learning," says Longo.
Troy's successes are tied to the supportive and collegial professional atmosphere he has built, one which allows all stakeholders — teachers, support staff, parents, students, and community members alike — to enjoy a shared responsibility for the governance of the school. Superintendent Dr. James Longo praises the "culture of shared responsibility for student performance and development" and the "climate of teamwork, trust and enthusiasm for learning" that Troy has fostered at AES. "Troy truly listens to and reflects on what his staff has to say. This encourages "buy in" from the staff and makes us excited about the work that we have ahead of us," says Spanish teacher Rebecca Aubrey.
Dianne Vumback
Dianne Vumback, principal of Lincoln Middle School in Meriden, has been named the 2018 CAS Middle School Principal of the Year. Nominated for the award by her assistant principals, Pete Colaccino and Karolyn Rodriguez, Dianne is a passionate and purposeful leader who embraces the challenges of urban education with a fierce personal commitment and an unerring focus on what is best for children. Says social studies teacher Cathleen Larsen, "Dianne always works from the mindset of what is in the best interest of the student. If you approach her with an idea, the answer will always be 'yes' if it means improved learning opportunities for our kids."
Reacting to the announcement of her selection, Dianne remarked, "I am honored to be selected as the 2018 CAS Middle School Principal of the Year! I am privileged to work with a dedicated and talented team that focuses its efforts on creating a positive learning environment that engages and motivates our students. I share this accolade with every member of the Lincoln community who inspires me to do my best every day for the students we care about so much."
Upon assuming the leadership of Lincoln in 2012, Dianne made educational equity a priority of her administration. She worked with staff to mainstream English language learners (ELs), integrating them into the regular classrooms with bilingual support. And, she reorganized class schedules to minimize leveling and discourage academic tracking. Classes are now more academically heterogeneous, allowing all students access to rigorous coursework. As a result, Lincoln ranked 3rd on the Accountability Index change out of the state's 100 middle school (grades 6-8). Additionally, the EL data showed an increase of 1.0% to 4.3% growth in reading and 0.8% to 1.8% in Math. Jjust recently, Lincoln exited the Focus School category due to substantial improvement on its high needs index scores.
Lincoln is renown for its climate of openness, caring and inclusivity — and this welcoming atmosphere is a direct result of Dianne's efforts to make everyone who enters the school building feel like family. Ask a group of parents to describe Dianne and the rapid barrage of adjectives that ensues includes "joyful," "spectacular," "interactive," "visible," "caring," "compassionate," "dedicated," "inclusive," "amazing," "empowering" and "family-oriented." And her students agree. Eighth grader Shannon Turner raves, "You see Mrs. Vumback everywhere and she always has a smile on her face. The staff model Mrs. Vumback. They are all fantastic and friendly. They feel like family and they make learning fun." Seventh grader Claire Vega adds, "This school has a great vibe. It is joyful to be here."
One of Dianne's many strengths is her ability to work with staff to use assessment data as a tool to accelerate student learning. She successfully implemented a Professional Learning Community (PLC) data team structure that requires all staff to review student data on a weekly basis. Her focus on data-driven decision making has helped teachers to identify and provide support to students who need additional help in a particular skill area.
Lincoln's successes can be directly tied to Dianne's unwavering belief in the capacity of all children to achieve at high levels. Superintendent Mark Benigni observes, "Dianne makes kids believe in themselves. She will not allow anyone to put limits on kids." And her high standards are applied with equal measure to her staff. Says Jennifer Fleming, school counseling director, "Dianne sets high expectations for her staff and we, in turn, set high expectation for our students." Adds English teacher Martha-Anne Noonan, "I am happy at Lincoln because of the high expectations that Dianne sets. She encourages us to continue to expand our knowledge and skill set. If it weren't for Dianne, I would never have discovered how much more I had to learn and how much more I could grow."
All members of the Lincoln community marvel at Dianne's ability to make deep personal connections with kids; and the positive, supportive relationships she fosters with her students are the springboards for their success. Says Turner, "Mrs. Vumback works hard to build relationships with her students. She listens and engages with us and treats us like her own children." Glen Felton, climate specialist, notes, "Dianne inspires her students. They know her. They know she has high expectations for them and they don't want to disappoint her." And, parent Jeanne Anastasio praises, "Dianne loves what she does. And it's not just about what happens during the school day. For Dianne, it's so much more. She cares about kids outside of the school. It's more than just being a principal, it's being a human being who cares."
Bill Silva
Dr. Bill Silva, principal of Farmington High School (FHS), has been named the 2018 CAS High School Principal of the Year. Farmington superintendent Kathleen Greider, who nominated Bill for the award, remarks, "Dr. Silva's expert instructional leadership and ability to forge positive relationship with the entire school community have resulted in a culture of excellence, equity and belonging for all."
Upon receiving the news of his award from selection committee chair Donna Hayward, Bill responded, "It is a great honor to be named the 2018 CAS High School Principal of the Year, an award that truly recognizes the accomplishments and efforts of the entire Farmington High School community – faculty and staff, students, and parents – and the Farmington Public Schools. I am proud to represent Farmington High School and to serve this community in achieving our mission of academic excellence for all students."
Now in his fifth year as FHS principal, Bill has spearheaded a number of programs and practices to promote equity and elevate student voice. His deep commitment to equity is reflected in the AVID (Advancement via Individual Determination) program which he initiated in 2014 to serve students who are typically under-represented in higher education. Students enrolled in AVID are provided additional support through intensive tutoring and lessons to develop skills and behaviors for academic success. Dr. Silva will graduate the first cohort of AVID students this year. Additionally, under Bill's leadership, FHS has moved to heterogeneous grouping at the Honors level in multiple subject areas so that all students have full access to the most rigorous curriculum and instruction; has eliminated barriers to student enrollment in Advanced Placement classes; and has instituted a year-long training on Co-Creating Equity for faculty and staff. These efforts exemplify what Bill calls "the collective pursuit of equity in all of our systems and structures, with the goal of promoting the highest levels of student achievement for all of our learners."
Since arriving at FHS in 2013, Bill has maintained a steadfast focus on the conceptual model of students as leaders of their own learning. At the center of his decision-making is his drive to empower students to be more involved in their learning goals and outcomes. In what may be a first for U.S. high schools, FHS students join teachers and administrators on instructional rounds and make recommendations for improving the teaching and learning that take place in the classroom. The practice of student participation in rounds is just one example of the systemic shift from teacher-directed learning to student-directed learning that has taken place at FHS. According to FHS parent Jean Baron, "Over the past few years, Dr. Silva has implemented a more student-led curriculum that teaches and encourages students to be more involved in their day to day education. By involving students in their own learning he has created a "can do" atmosphere for students."
In addition to his many professional successes as principal of a high-achieving school, Bill is respected for the culture he promotes, the values he embodies and the relationships he builds. Says English teacher Amy Miller, "Bill is always brain-forward and heart-forward. He prioritizes relationships above all else. I couldn't envision a more compassionate leader who exemplifies all of the qualities that we want to instill in our students." Ahang Zafari, parent of a grade 11 student, adds, "Bill is a role model for excellence and respectfulness for the entire student body."
Highly visible and wholly immersed in all facets of school life, Bill is a fixture in the corridors and classrooms. When asked about his priorities, Bill lists "being present, being engaged and being involved." Farmington Board of Education Chairman Chris Fagan describes him as "omni-present;" and assistant superintendent Kim Wynne jokes, "There must be three Bills!" Though more than 1,200 students enter the doors of FHS each day, Bill manages to maintain a warm, welcoming atmosphere where each one feels connected and engaged/valued. He achieves this through his warm presence and through the genuine affection and respect that he models for all members of the school community. Senior Alexa Simpson states, "Dr. Silva is completely engaged in our lives. He takes an authentic interest in each of us as individuals and we never feel like we are just one of 1,200. He humanizes the principalship and makes us feel like he is not just a principal but a friend." Staff and parents agree. Baron remarks, "There is an atmosphere of unity and kindness at FHS that begins with Dr. Silva. He greets students every morning at the student entrance. Students feel connected to him and know he has an open door policy." Adds Russ Crist, student activities director and English teacher, "Bill lives for and at the school. His life is dedicated to making FHS a better place for students and teachers. He's 100% all in, heart and soul."
---
The State Principal of the Year Program
The Principal of the Year Program, sponsored annually by the Connecticut Association of Schools, was established in 1984 to bring recognition to the principalship and to spotlight the important role of the principal in shaping the educational environment and experiences of children. The program recognizes outstanding school principals who have succeeded in providing high quality learning opportunities for students. These administrators have demonstrated excellent leadership, commitment to staff and students, service to their communities, and contributions to the overall profession of educational leadership.
Each year nominations are solicited for an Elementary, Middle and High School Principal of the Year. The winners are chosen by a selection committee consisting of active and retired principals and assistant principals. Nominees for the award are evaluated in the areas of personal excellence; collaborative leadership; curriculum, instruction, and assessment; and personalization.
Troy, Dianne and Bill will be honored by CAS at the "Celebration of Distinguished Administrators" to be held on October 25, 2018, at Saint Clements Castle in Portland.
National Recognition Programs
Troy will represent Connecticut in the National Distinguished Principals (NDP) Program sponsored by the National Association of Elementary School Principals (NAESP). One principal is chosen annually from each of the 50 states, the District of Columbia and the Virgin Islands. Principals representing private K-8 schools, Department of Defense Dependents' Schools, and the U.S. Department of State Overseas Schools are also recognized. Public school principals are nominated by peers in their home states, and the final selection for each state's NDP is made by the NAESP state affiliate (in this instance, CAS). The national recognition events will take place in Washington, D.C. on October 11-12th. They include special tours and activities as well as opportunities for professional dialogue among the principals. The two-day celebration culminates in a formal awards banquet.
Dianne will represent Connecticut in the National Principal of the Year Award Program sponsored by the National Association of Secondary School Principals (NASSP). She will compete for the national honor along with principals of the year from each of the other forty-nine states, the District of Columbia, the Department of Defense Education Activity, and the Department of State Office of Overseas Schools. NASSP will recognize all state principals of the year at an institute in Washington DC, September 23-26, 2018, which also serves as a forum for sharing their experience and expertise with each other, with national leaders in education and with federal legislators.