Alternative Education Community of Practice Series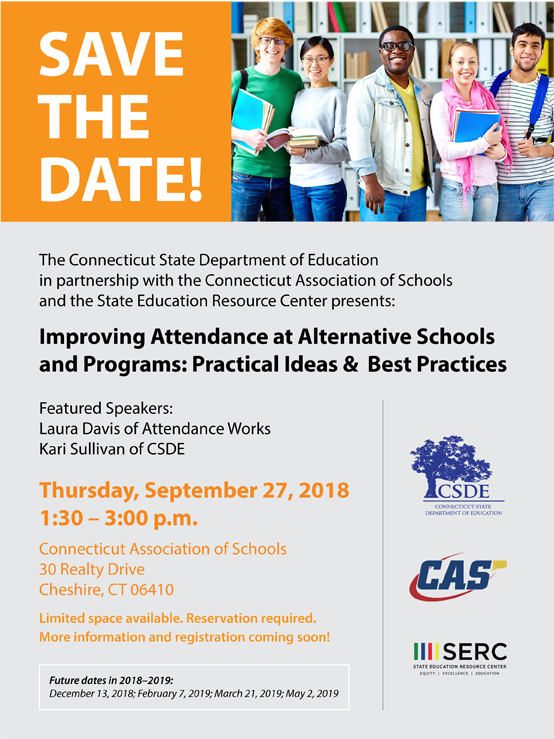 The CT State Department of Education – in partnership with CAS and SERC – is sponsoring a community of practice series specifically targeted to the interests and needs of alternative education program/school administrators. The five-session series provides a forum for discussing needs, sharing ideas and building networking opportunities within this cohort of leaders.
Participation in this series is free of charge but advanced registration is required.
---
Alternative Education COP-Session #1
• Date: September 27, 2018
• Time: 1:30-3:00 pm
• Location: CAS Office, 30 Realty Drive, Cheshire, CT
This presentation by Laura Downs from Attendance Works and Kari Sullivan from the CSDE will include:
Improving Attendance at Alternative Schools and Programs
Discussion/Sharing of Best Practices
---
Alternative Education COP-Session #2
• Date: December 13, 2018
• Time: 1:30-3:00 pm
• Location: CAS Office, 30 Realty Drive, Cheshire, CT
This presentation by Kim Traverso from the CSDE will include:
Strategies to Reduce Exclusionary Discipline
Discussion/Sharing of Best Practices
---
Alternative Education COP-Session #3
• Date: February 7, 2019
• Time: 1:30-3:00 pm
• Location: CAS Office, 30 Realty Drive, Cheshire, CT
This presentation by Dr. Judy Carson from the CSDE will include:
Family Engagement Strategies
Discussion/Sharing of Best Practices
---
Alternative Education COP-Session #4
• Date: March 21, 2019
• Time: 1:30-3:00 pm
• Location: CAS Office, 30 Realty Drive, Cheshire, CT
This presentation by Laura Downs from Attendance Works and Kari Sullivan from the CSDE will include:
Revisiting Attendance in Alternative Schools and Programs
Discussion/Sharing of Best Practices
---
Alternative Education COP-Session #5
• Date: May 2, 2019
• Time: 1:30-3:00 pm
• Location: CAS Office, 30 Realty Drive, Cheshire, CT
This presentation by Glen Peterson from the CSDE will include:
Discussion of the State of Alternative Education in Connecticut
Lessons from the Field