CAS Celebrates State's Top School Leaders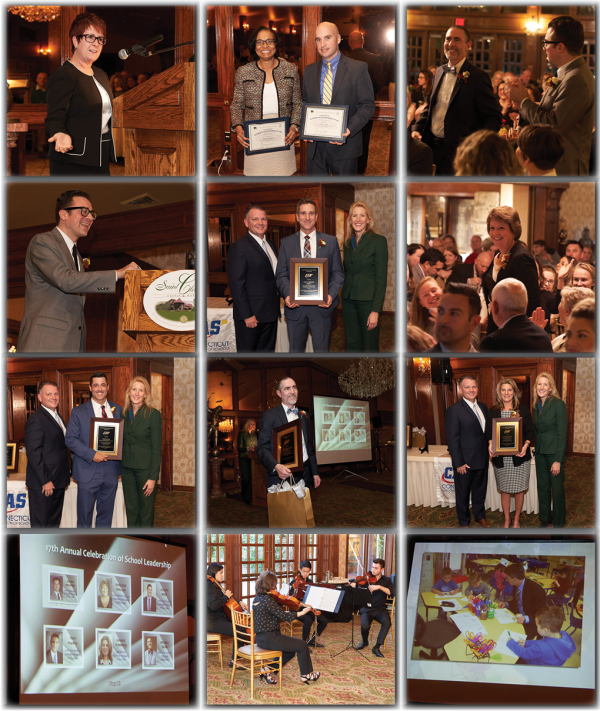 On Thursday, October 25, 2018, CAS hosted its annual celebration of school leadership at Saint Clements Castle in Portland. The event was conceived eighteen years ago following a resolution by the CAS Board of Directors to find ways to recognize and pay tribute to individual school leaders as well as to promote the profession of school administration.
Six individuals from the ranks of Connecticut's school administrators were honored at this year's event:
Troy Hopkins, Ashford School
2018 Elementary School Principal of the Year
Joseph Macrino, Oswegatchie School, Waterford
2018 Elementary School Asst. Principal of the Year
Joseph Masi, Northwestern Reg. HS, Winsted
2018 High School Asst. Principal of the Year
Dr. William Silva, Farmington High School
2018 High School Principal of the Year
Dianne Vumback, Lincoln MS, Meriden
2018 Middle School Principal of the Year
Darlene Wallin, John Read MS, Redding
2018 Middle School Asst. Principal of the Year
More than one two hundred educators, friends, and family members packed the Waterford Ballroom at Saint Clements to join in honoring CAS' 2018 Distinguished Administrators. Guests were greeted at the door with the stirring sounds of the Glastonbury High School Resident String Quartet directed by Nola Campbell.
Donna Hayward, principal of Haddam-Killingworth High School and president of CAS, warmly welcomed guests and praised the accomplishments of the six honorees. "In the midst of declining resources, accountability pressures and the myriad demands of your profession, you continue to bring innovation, inspiration and dignity to the work of educating our children," said Donna.
Following the welcoming speeches, each of the six distinguished administrators was entertained with a short slideshow containing pictures and quotes from friends and colleagues. All honorees received a plaque, a book and, thanks to the generosity of Jostens, a custom-designed ring to commemorate their achievement.
New this year was the presentation of the first annual Commissioner's Leadership Awards. Dr. Melissa Hickey, reading and literacy director for the Connecticut State Department of Education, was on hand to present plaques to Peter Camp from Uncas Network School in Norwich, recipient of the 2018 Commissioner's Mathematics Leadership Award, and Dianne Spence from Conte-West Hills Magnet School in New Haven, winner of the 2018 Commissioner's Literacy Leadership Award. Dr. Hickey praised Peter and Dianne for their "strong instructional leadership and commitment to excellence."
Many thanks to our official photographer, Grynn & Barrett Studios.