PSAT-SAT Workshops – Fall 2019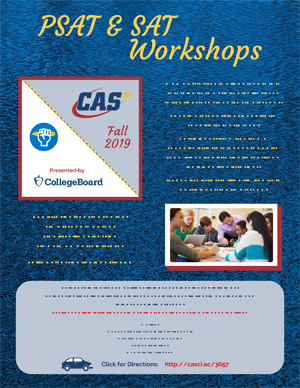 As a continuation of CAS' popular PSAT and SAT presentations, The College Board's Alan Bernstein, Senior Director, and Sabrina Lavieri, Director, will return to CAS for three workshops being offered this fall.
Registration is now open for the "SAT English/Language Arts & Social Studies Workshop" on November 6th and the "PSAT-SAT Data and Collaboration Workshop" on December 11th and 12th. Each workshop is designed for a specific target audience, and registration fees are based on the workshop content, full/half day sessions and CAS membership status.
Registration is by individual workshop, and payment or purchase order is due in advance. Contact Noreen Liberopoulos at nliberopoulos

casciac

org (nliberopoulos

casciac

org) for additional information.
Click here for details and registration.