Do You Know an Outstanding Middle or High School Principal?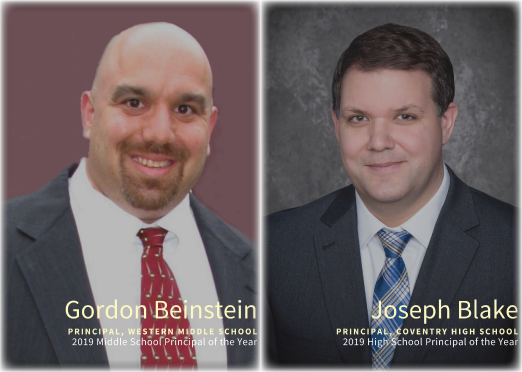 If your answer is "YES," we encourage you to nominate him or her for the Principal of the Year Award!
The Principal of the Year Award Program was established in 1984 to bring recognition to exemplary secondary school principals* and to increase public awareness of the critical role that principals play in the education of our youth. The program is designed to honor outstanding principals who have demonstrated extraordinary leadership, a passion for educational excellence, a selfless commitment to their students and staff and ongoing service to their communities.
If, after reviewing the eligibility requirements below, you feel that a middle or high school principal whom you know is a viable candidate for this honor, please complete the online nomination form or have it completed by someone within the district who knows the candidate. All nominations must be submitted no later than midnight on January 24, 2020. Your nominee will be informed of this nomination and asked to complete an awards application. All candidates must be members of CAS and NASSP and have served as a principal at one or more middle level or high schools for at least three full school years.**
---

Individuals nominated for the Middle and High School Principal of the Year Awards are notified of their nomination and invited to move forward in the awards process by completing a written application. The CAS Awards and Recognition Committee, a selection committee consisting of active and retired principals and assistant principals, will review applications and, if necessary, conduct a site visit at the schools of the two highest rated candidates at each level (middle and high). Winners will then be chosen based upon the outcome of the site visit as well as the quality of the written application.
Both the middle and high school honorees will be recognized locally by CAS and one, but not both, will represent Connecticut in the competition for the 2020 National Principal of the Year Award sponsored by NASSP. For additional information on the National Principal of the Year Program, visit the NASSP website.
The CAS Awards and Recognition Committee reserves the right to reject any and all candidates in a category if they do not fulfill the criteria for the award. In making its decisions, the Awards and Recognition Committee will consider each candidate's professional qualities and achievements as outlined in the application and his/her contributions to the profession. Prior winners will not be considered.
IMPORTANT: Anyone holding a position on the NASSP Board of Directors or serving as an officer on the CAS Board of Directors during the official nomination time period or during the year he/she would serve as Principal of the Year is ineligible for selection.
We hope you will take advantage of this opportunity to provide state and national recognition to deserving school administrators. Please visit www.casciac.org/nominate_POY.shtml to submit your nomination.
* CAS sponsors a separate recognition program for elementary level principals.
** House principals are eligible for our Assistant Principal of the Year Awards Program.

---

Eligibility Requirements:
Board members of NASSP are ineligible for consideration for one year after completion of their board service. Officers of CAS are ineligible to participate in the program during the period in which they hold any office.
Candidate must notify NASSP immediately of any change in his or her status as principal. Failure to notify NASSP of change could jeopardize a candidate's eligibility for the national award.
Candidate must be an active principal, headmaster, or leader of a virtual, public, or private middle level or high school from the 50 states, the District of Columbia, the Department of Defense Education Activity, or the U.S. Department of State Office of Overseas Schools. Middle level and high schools are defined as those containing some portion of grades 6 through 12.
Candidate must have served as a principal at one or more middle level or high schools for

three

or more consecutive school years.
Candidate must complete the online NASSP National Principal of the Year application.
Each candidate must be a principal, headmaster, or leader at a middle level or high school and a member of NASSP and his or her state affiliate association at the time of selection or tenure as state principal of the year. For national finalists, these conditions must also be met at the time of national principal of the year interviews, when the national winner is announced, and during tenure.
Previous state and/or national winners are ineligible.