Workshops Address Two Critical Issues for School Leaders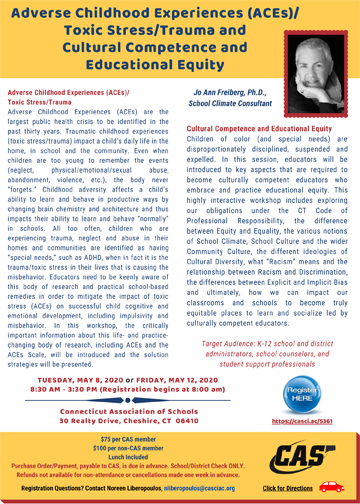 Join Dr. Jo Ann Freiberg as she tackles two critical issues facing school leaders today: Mitigating the Effects of Childhood Trauma and Educational Equity through Cultural Competence
Traumatic childhood experiences impact a child's daily life in the home, in school and in the community. All too often, children who are experiencing trauma, neglect and abuse in these settings are misidentified as having "special needs" when, in fact, it is the trauma/toxic stress in their lives that is causing the misbehavior. Educators need to be keenly aware of the research related to Adverse Childhood Experiences (ACEs) and the ways in which trauma negatively impacts a child's cognitive and emotional development. Dr. Freiberg, School Climate Consultant, will present two separate workshops in which she will share critically important information about this life- and practice-changing body of research, including the ACE Scale, and will introduce strategies for mitigating the damaging effects of toxic stress.
In these interactive workshops, Dr. Freiberg will also explore approaches for transforming our classrooms and schools into truly equitable learning communities led by culturally competent educators.
Participants may register to attend either the May 8th or May 12th workshop. These are full-day workshops and lunch will be provided.
CAS members – $75 per person