Six Administrators Honored at Annual Membership Reception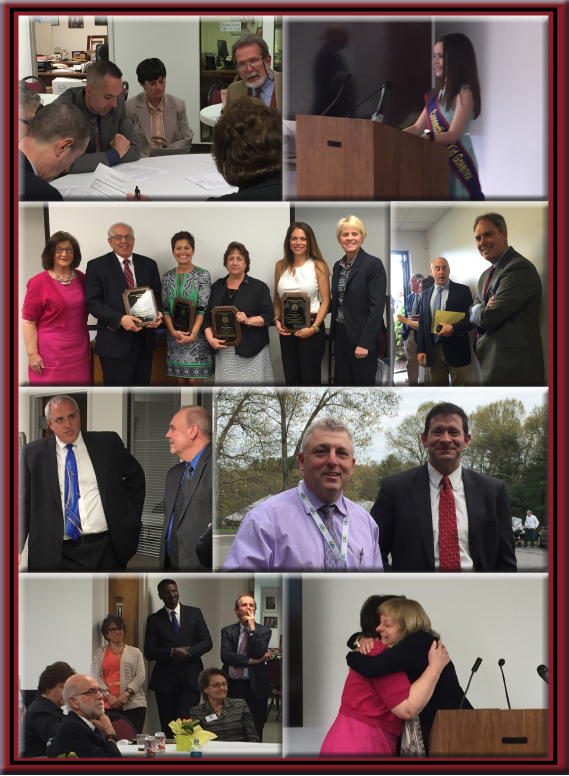 More than sixty colleagues attended CAS' 64th annual membership reception on May 10th, enjoying a short break from the chaos and craziness that inevitably erupt this time of year. Formerly a business meeting at which we discharged the duties and responsibilities required by our Constitution, this annual event has been transformed into a relaxing, end-of-the-year reception and awards ceremony.
This year's event kicked-off with an inspiring presentation by Elena Tipton, CT's first-ever Kid Governor. Elena, from O'Connell School in East Hartford, spelled out her mission to make Connecticut the kindest and most amazing state in the country and outlined three very concrete action steps to make that happen. Catch the video of this amazing young woman and marvel at her poise in addressing a group of over sixty school administrators!
Following our student speaker, Smith Middle School Principal Donna Schilke presented her 2015-2016 President's Report, describing the many ways in which the association has been an invaluable personal and professional resource. "CAS has kept me informed and has given me clarity on so many of the issues we must deal with and are facing today…CAS has taught me about leadership, what it takes to be a strong and fair leader and what it means to work collaboratively within a group; how to make tough decisions and hold difficult conversations…And, perhaps most importantly, CAS has given me friendships; people who are important in my life; who have added something to my journey in education and whom I deeply admire and respect," said President Schilke.
In her Executive Director's Report, Karissa Niehoff reviewed highlights and challenges for both the association and for the education profession in general. She also spoke at length about what the future will hold for young people, sharing some predictions from Futurist Thomas Frey which underscore the need for sweeping reforms in the nation's education system. Frey forecasts that 60% of the jobs that will exist 10 years from now haven't been invented yet and he laments that higher education still tends to prepare students for jobs of the past. Among Frey's projections for jobs of the future are some that are: personal rapid transit systems, atmospheric water harvesters, global systems, future sports, commercial drone industry, 3D printing, big data processes (waste, fraud, development), augmented reality, alternative financial systems, energy storage, futuristic construction, driverless everything, future agriculture, micro-colleges (training immersion centers), senior living, dismantling systems, and extreme innovation. "Whether we choose to believe Thomas Frey's every prediction is not so important perhaps as just reframing our thinking about what schools need to be doing to prepare and guide our students into 21st century pathways," Niehoff emphasized. Be sure to read the full text of Dr. Niehoff's thought-provoking report.
Following Dr. Niehoff's remarks, President Schilke presented distinguished service plaques to outgoing board members. These individuals have either reached the end of their term or are leaving prematurely due to retirement or promotion. This year, eleven members were awarded plaques for their service (not all were in attendance):
• Roxanne Augelli, Washington Elementary School, Waterbury
• Paul Cavaliere, Jr., Sage Park Middle School, Windsor
• Andre Hauser, Waterford High School
• Pam Lazaroski, Lewis Mills High School, Burlington
• Clydette Messiah, Hamden High School
• Brian Mignault, Harvard Ellis Technical High School, Danielson
• Stephen Patrina, Simsbury High School
• Debbie Ponte, Hopeville Elementary School, Waterbury
• Sheila Riffle, Old Saybrook High School
• Donna Schilke, Smith Middle School, Glastonbury
• Richard Watson, Griswold Middle School, Rocky Hill
President Schilke also welcomed members who, in the coming school year, will be new to an elected committee or board position.
• New to the CAS Board of Directors are: Al Sackey from Nathan Hale Middle School, Michael Litke from Naubuc School, Neil Rinaldi from Ellington High School, and, Sheila Riffle, from Old Saybrook High School;
• New to the CIAC Board of Control are: Erin Clark from Enfield, Ted Kelleher from East Windsor, Fran Kennedy from Berlin, and Dan Moleti from Bloomfield;
• West Hill Elementary School Principal Scott Nozik is joining the Elementary School Board of Control;
• Assuming a spot on the Middle School Board of Control is Missy Bavaro-Grande from East Granby;
• Newcomers to the High School Board of Control are Tom Moore from Wethersfield High School, Dominique Fox from Tolland, and Mike Higgins from Bristol Eastern;
• The Connecticut Student Activities Conference Board of Control will have three new faces: Linda Provost from Hebron Avenue Elementary School, Keri Hagness from the Morgan School, and, Christine Griswold from Stafford High School;
• The Principals' Center Board welcomes Fran Kennedy from Berlin High School, Anthony Hibbard from Great Oak Middle School, and, Kent Hurlburt from Buttonball Lane School.
The reception concluded with an awards ceremony honoring members who have made extraordinary contributions to the association. This year, four deserving individuals were selected to receive a CAS Letter of Commendation: Roxanne Augelli, Principal of Washington Elementary School in Waterbury; Kevin Brough, principal of Memorial Middle School in Middlefield; Pam Lazaroski, Principal of Lewis Mills High School in Burlington; and, Dan Scavone, Athletic Director of Berlin High School.
The CAS Citation, the association's highest honor, was awarded to two veteran CAS-CIAC administrators: Paul Cavaliere, Jr., Principal of Sage Park Middle School in Windsor; and Tom Moore, Principal of Wethersfield High School. Paul and Tom have selflessly served the association since 1990 and 1987, respectively. Together, they have a combined total of 55 years of service to CAS-CIAC!
The award presentations were made by Paul Newton, principal of Enrico Fermi High School and chair of the CAS Awards and Recognition Committee.
WATCH THE ENTIRE MEETING ON VIDEO!