CANHS Spring Conference a Rousing Success!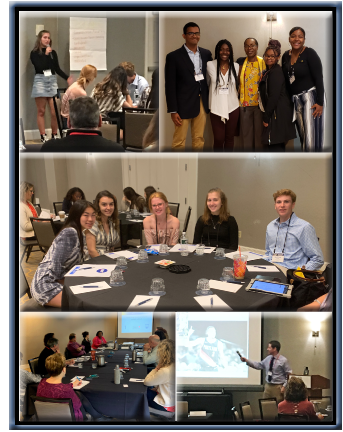 The Connecticut Association of Schools National Honor Societies (CANHS) would like to thank all the participants and contributors who helped to make the 2019 CANHS conference a successful event. The conference, which took place at the Sheraton Hartford South Hotel on May 30, 2019, featured Jonathan Winer (CREC Schools) who delivered a poignant keynote address that centered on the power of service to others; Don Gates (CANHS Pioneer) who discussed the relevance and limitless capacity of NHS projects; Magda Skomal (Interactive Ed. Theater Group) who championed the voice of student leaders in challenging situations; and Elancia Felder (NASSP Program Manager) who provided much insight into current NHS national policies and procedures.
Students and advisors gained new information, understanding, and skills that inspired and motivated them as leaders and fostered the development of collaborative projects to support positive change in their local schools and communities. In addition, four high school students were elected to the CANHS advisory board: Ajeeth Vellore (Simsbury HS, Grade 11), President; Anastasia Hunter (Goodwin THS, Grade 11), Vice President; Memunat Bilewu (Kaynor THS, Grade 11), Secretary; and Shamaray Wilson (Kaynor THS, Grade 11), Social Media Representative. The event kicked off the campaign to renew and revitalize CANHS throughout the state, and members are looking forward to an exciting and productive 2019-20 academic year that will signal our 2-decades of service.
By Dr. Nadine Mills, CANHS Executive Director