247 Students Honored at 2017 Scholar-Leader Banquet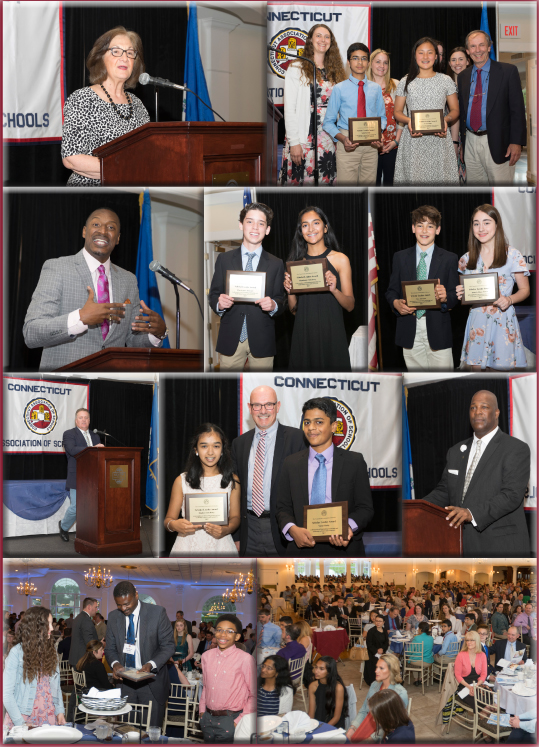 On Sunday, June 4, 2017, nearly 1,200 students, parents and educators traveled to the Aqua Turf Club in Plantsville for the 33rd Annual CAS Scholar-Leader Banquet. Two hundred forty-seven middle school students from around the state were recognized for their achievement in the areas of scholarship and leadership.
The evening began with a warm welcome from Donna Schilke, CAS Assistant Executive Director, and Deane Renda, principal of Whisconier Middle School in Brookfield and CAS Middle Level Board Chair. Guests then heard heartfelt congratulatory remarks from Mark Sommaruga, chair of the School Law practice group for Pullman & Comley, LLC, one of the event sponsors.
Following a spectacular dinner, served with the polish and abundance for which the Aqua Turf is known, Carey Edwards, middle school principal of the Waterbury Arts Magnet School, introduced keynote speaker and positive energy coach Chris Williams. Mr. Williams was a dynamic speaker, engaging his audience through quick wit, humor, and unbridled energy. His message empowered the students to be accepting of themselves and others and reminded them that something as simple as saying "thank you" can change lives.
Click here to download a banquet program containing a list of all of this year's scholar-leaders.
This event would not be possible without the generosity of our corporate partners, Horace Mann and Pulman & Comley, LLC. Many thanks to CAS' official photographer, Grynn and Barrett!