Publications & Resources
General Info
THE BULLETIN
CAS NEWSBLAST
School Climate Resources
Student Success Plans
Link to CAS-CIAC
Mooney's Law Guide
CAS Emergency Response Team
Welcome to the Publications and Resources
section of the CAS website.

Click on a category in the lefthand column
to view its available resources.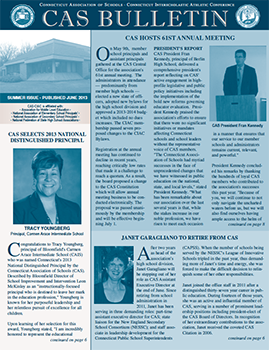 Published tri-annually during the school year, the CAS BULLETIN provides member schools with up-to-date information on educational trends, events, activities, legislation, and practices in Connecticut and nationwide.
Subscriptions to the BULLETIN are a membership service. Previous issues can be searched using the search box below.
Issues of the BULLETIN are available in .pdf format:

The CAS NewsBlast is a weekly e-mail newsletter sent to member school administrators during the school year.
Archived copies of the NewsBlast can be accessed via the links below. Previous issues can be searched using the search box.
CAS welcomes all member schools to display evidence of their membership prominently on their websites.
You can use any of the graphics below, just copy and paste the appropriate HTML code to display the graphic with a link to our site.
CAS and CIAC also welcome affiliated organizations and other interested parties to link to our site via the graphics in the "Affiliate/Other" sections.
7TH EDITION OF MOONEY'S LAW GUIDE NOW AVAILABLE

The Seventh Edition of A Practical Guide to Connecticut School Law is now available at a cost of $54.95 for CAS members. The Guide is written by Tom Mooney, a lawyer who chairs the School Law Practice Group at Shipman & Goodwin and teaches education law at both the University of Connecticut School of Education and the University of Connecticut School of Law. Tom is a good friend of CAS and he has written "Legal Mailbag" for the CAS Bulletin since 2001.
The Guide comes with a CD which will provide hyperlinks to many cases and statutes and will permit word searches as a supplement to the Index.
The Guide is the basic reference work on school law for school administrators and school board members in Connecticut. First written in 1994, it provides an understandable explanation of the important principles of school law, as follows:
Chapter One: Board Organization, Authority and Responsibilities
Chapter Two: Religion and the Schools
Chapter Three: Teacher Employment, Evaluation and Dismissal
Chapter Four: Students
Chapter Five: Special Education
Chapter Six: Collective Bargaining
Chapter Seven: Obligations of School Boards as Employer
The Seventh Edition incorporates the many statutory changes and significant court decisions that have arisen at both the state and federal levels over the past three years. The General Assembly has passed a number of laws that affect school districts, including bullying, child abuse reporting, and educational reform. At the federal level, there have been amendments to FERPA and case law developments in special education and constitutional rights. The Seventh Edition also comes with a CD with the full text to permit electronic word searches, as well as links to applicable statutes and case law.
The Guide is available for $54.95 (plus postage and handling) for CAS members and $79.95 for non-members. To place an order, call Erin at the CAS office at (203) 250-1111.
CAS Emergency Response Team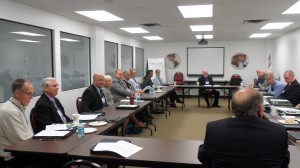 The Connecticut Association of Schools has established an Emergency Response Team to provide support for school leaders in the event of crisis situations that transcend a district's capacity to manage effectively. This team would be deployed in the same manner as Red Cross, law enforcement, and mental health teams are deployed. The team's sole task will be to provide assistance and guidance for principals and other building leaders. The twenty member team is comprised of present and former school administrators who have been identified through a survey of all CAS member principals as being people they would like to have by their side in the event of a catastrophic occurrence in their school or district.

The Emergency Response Team has been trained to:
• Increase administrative capacity;
• Be an advisor and ally who is less involved in the event;
• Handle school management issues while school leaders are dealing with the crisis;
• Be a "handler" for, and look after the principal as she/he process what needs to be done;
• Help accelerate the healing.
The team intends to work in concert with other professional teams to maximize support for affected schools and districts.

School Crisis Support
Emergency Response Team members are also available to support school leaders in dealing with crisis situations that do not rise to the catastrophic occurrence level. Member principals who experience a building level crisis and would like a contact from someone who has been through the experience, call (203)250-1111 or email mail

casciac

org. Simply leave a brief message with your contact information and a brief note about the nature of your situation. A team member will contact you.