Publications & Resources
General Info
THE BULLETIN
CAS NEWSBLAST
School Climate Resources
Student Success Plans
CCS Toolkit
Link to CAS-CIAC
Mooney's Law Guide
Welcome to the Publications and Resources
section of the CAS website.

Click on a category in the lefthand column
to view its available resources.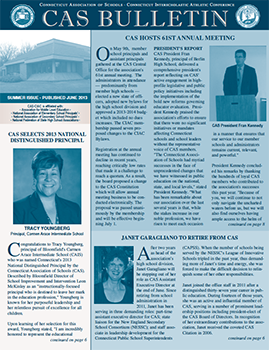 Published regularly from September 1972 through January 2014, the CAS BULLETIN kept members abreast of the latest association news and at the same time provided up-to-date information on education-related trends, activities, legislation, and practices in Connecticut and nationwide.
Past issues of the CAS Bulletin, dating back to 1997, are available in .pdf format below:
CONNECTICUT CORE STANDARDS TOOLKIT
CAS welcomes all member schools to display evidence of their membership prominently on their websites.
You can use any of the graphics below, just copy and paste the appropriate HTML code to display the graphic with a link to our site.
CAS and CIAC also welcome affiliated organizations and other interested parties to link to our site via the graphics in the "Affiliate/Other" sections.
7TH EDITION OF MOONEY'S LAW GUIDE NOW AVAILABLE

The Seventh Edition of A Practical Guide to Connecticut School Law is now available at a cost of $54.95 for CAS members. The Guide is written by Tom Mooney, a lawyer who chairs the School Law Practice Group at Shipman & Goodwin and teaches education law at both the University of Connecticut School of Education and the University of Connecticut School of Law. Tom is a good friend of CAS and he has written "Legal Mailbag" for the CAS Bulletin since 2001.
The Guide comes with a CD which will provide hyperlinks to many cases and statutes and will permit word searches as a supplement to the Index.
The Guide is the basic reference work on school law for school administrators and school board members in Connecticut. First written in 1994, it provides an understandable explanation of the important principles of school law, as follows:
Chapter One: Board Organization, Authority and Responsibilities
Chapter Two: Religion and the Schools
Chapter Three: Teacher Employment, Evaluation and Dismissal
Chapter Four: Students
Chapter Five: Special Education
Chapter Six: Collective Bargaining
Chapter Seven: Obligations of School Boards as Employer
The Seventh Edition incorporates the many statutory changes and significant court decisions that have arisen at both the state and federal levels over the past three years. The General Assembly has passed a number of laws that affect school districts, including bullying, child abuse reporting, and educational reform. At the federal level, there have been amendments to FERPA and case law developments in special education and constitutional rights. The Seventh Edition also comes with a CD with the full text to permit electronic word searches, as well as links to applicable statutes and case law.
The Guide is available for $54.95 (plus postage and handling) for CAS members and $79.95 for non-members. To place an order, call Erin at the CAS office at (203) 250-1111.