Five Administrators Honored at Annual Membership Reception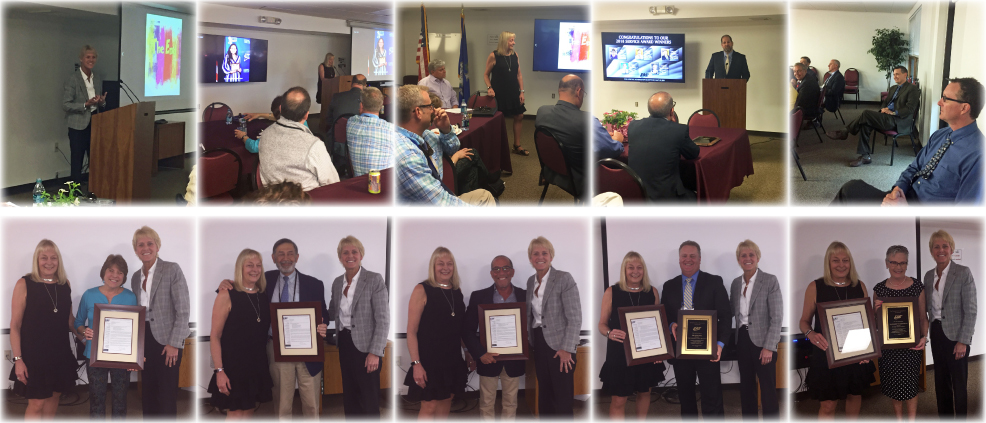 2018 Award Winners (left to right): Lisa Eells, Ralph Mayo, Neil Rinaldi, Deane Renda and Margie Williamson
Despite the threat of severe storms, more than eighty brave colleagues – both active and retired – trekked to Cheshire on May 15th for CAS' 66th annual membership reception. The shower of weather alerts heard echoing throughout the conference center added an element of adventure to what might have otherwise been a more low-key affair.
CAS President Dr. Rosie Vojtek, principal of Ivy Drive School, gave another creative and untraditional end-of-year report, immersing us in the history and mission of CAS via an adapted version of the Dr. Seuss classic "Oh, the Places You'll Go." The fictional publication, "Oh All the Things That We Do," provided a light-hearted look at the rich array of programs and services that CAS offers. If you are looking for a fun way to learn a lot about CAS, be sure to read this cleverly crafted adaption!
In her Executive Director's Report, Dr. Karissa Niehoff revisited the challenges identified in last year's report and briefly reviewed the association's work regarding those challenges. She also shared a document that she received in 2010 from predecessor Mike Savage that captured the concerns he had regarding CAS' future at that time. She then offered her own thoughts on those same concerns which are still relevant now eight years later.
Following Dr. Niehoff's remarks, President Vojtek presented distinguished service plaques to outgoing board members. These individuals have either reached the end of their term or are leaving prematurely due to retirement or promotion. This year, seven members were awarded plaques for their service (not all were in attendance):
• Sally Biggs, Hartford Magnet Trinity College Academy
• Paul Cavliere, Jr., Sage Park Middle School
• Ralph Mayo, Eastern Middle School, Greenwich
• Neil Rinaldi, Ellington High School
• Angela Rossbach, Warren School, Region #6
• Al Sackey, Nathan Hale Middle School, Norwalk
• Greg Shugrue, New Milford High School
President Vojtek also welcomed members who, in the coming school year, will be new to an elected board position.
Joining the CAS Board of Directors are: Dominique Fox from Tolland High School; Ralph Mayo from Eastern Middle School; and Amy Yost from Sunnyside Elementary;
The CIAC Board of Control will have three new faces: Vincent DeNuzzo, East Haven High; Don Slater, Bulkeley High; and Dan Zittoun, Hall High School;
Assuming a spot on the Elementary School Board of Control is Eric Larson from Burr Elementary;
Newly appointed to the Middle School Board of Control are Missy Bavaro-Grande, East Granby Middle, and Todd Snyder, Dag Hammarskjold Middle School;
The High School Board has two new additions: Gina Pin from Joel Barlow HS and Joseph Anastasio from Old Saybrook HS.
The Center for Leadership and Innovation Advisory Board has a large influx of new members including Mary Gadd, Cheshire High; Liana Jorgensen, Sage Park Middle; Linda Provost, Hebron Avenue School; Evelyn Robles-Rivas, Worthington Hooker School; Bill Silva, Farmington High; Jenn Straub, Maloney High; and Tara Winch, Westbrook High; and,
The CT Student Activities Board of Control is happy to welcome Mike Barile from Valley Regional HS; Lauren Elias from Waterbury Arts Magnet School; Robert Garry from Hatton Elementary; William Grimm from Calvin Leete Elementary; Matthew Peel from Bacon Academy; and Jenn Straub from Maloney.
The reception concluded with an awards ceremony honoring members who have made extraordinary contributions to the association. This year, three deserving individuals were selected to receive a CAS Letter of Commendation. Congratulations to Lisa Eells, principal of Wintonbury Elementary School in Bloomfield; Ralph Mayo, principal of Eastern Middle School in Greenwich; and, Neil Rinaldi, principal of Ellington High School!
The CAS Citation, the association's highest honor, was awarded to two veteran CAS-CIAC administrators: Deane Renda, principal of Whisconier Middle School in Brookfield; and Margie Williamson, principal of St. Mary's School in West Hartford. Congratulations to Deane and Margie on the achievement of this distinction!
The award presentations were made by Andre Hauser, principal of Waterford High School and member of the CAS Awards and Recognition Committee.