Long River MS Earns NELMS Spotlight Award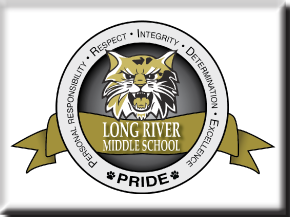 DECEMBER 2018 – Congratulations to Long River Middle School (LRMS) in Prospect for its recent designation as a NELMS Spotlight School! According to Kathleen Hill, NELMS Spotlight Schools Coordinator, "The school was selected because of its ability to create an excellent learning environment for young adolescents and its consistent observance of middle school best practices."
NELMS visiting team members were very impressed with the educational excellence that was evident during their site visit, commending a number of outstanding programs and practices currently in place at LRMS, including:
A strong culture and climate as evidenced by the PRIDE initiative;
A strong leadership team and the vibrant sense of community among administration, staff, students, and parents;
Personalized learning experiences for every student, enhanced by SAMR, SRBI, and teacher-led Friday programs;
Programs such as advisory, curriculum written by guidance personnel and implemented with fidelity, and the Ben's Bells program and its positive impact on the daily operation of the school;
A safe and secure environment augmented by the security guard's visibility and relationship with the school community;
A focus on student learning evident in the STEM program, 3D Art program, the display of student work in the building, and the vibrant and inviting media center;
An active and supportive parent association that is regarded as a stakeholder in the success of the school;
Participation in district common planning time that enhances vertical and horizontal articulation of curriculum;
Teachers trained in learning walks and participating as stakeholders in the planning of professional development; and,
Continuous success in state testing and student growth, and the national recognition of five grade 8 students by the National Junior Honor Society.
Upon learning of his school's selection for this prestigious award, LRMS Principal Derek Muharem stated, "I am very proud of the efforts and improvement made by our staff at Long River Middle School over the last two years. This recognition is an affirmation of our commitment and confirms that we are aligned with best practices for middle level students. This honor highlights the strong support of the Beacon Falls and Prospect community and represents our dedication and relentless drive to provide the best for our students and all of Region 16."
The Spotlight Schools award and designation will be in place for three years. The school will be presented with a Spotlight Schools banner at NELMS' Annual Conference, March 21-22, 2019 in Providence, Rhode Island.
Long River Middle School is one of only eleven Spotlight Schools in Connecticut to be so designated by NELMS.