Middle School Debate League Goes Virtual in 2020-21!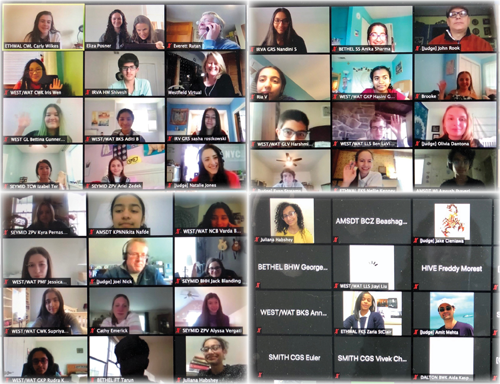 A message from CTMSDL President, Jen Posner…
Welcome to the CT Middle School Debate League's 2020-2021 season…a virtual one! We know you have a lot on your back to school plates this year (to say the least) but we hope that getting back to debating will bring you and your Middle School debaters some much needed fun and camaraderie, even if it's virtual.
We plan to hold 5 virtual events this season. Find our schedule here.
We tested the online format in May and it worked remarkably well. We are ready, willing, and able to help you and your debaters get ready for online debating so no worries if you're unsure about the tech end of things – just ask.
We'll kick off the year with a scrimmage on Saturday, October 24. As this is an election year, the motion will be: This House, as Facebook, would ban all political advertising.
As always, a former high school debater and coach has prepared a note and briefs to get coaches ready to understand the topic quickly. Find those here.
If you missed our August Professional Development meeting, you can review the slides from the workshops on Flowing and Rebuttal speeches here.
We thrilled to tell you that, over the summer, we recorded and posted 2 demonstration debates! We've also posted a couple of High School debate judges explaining their Reasons For Decisions (RFDs) for the rounds. You can use these videos to understand the CTMSDL format, for your debaters to practice flowing and refuting and rebuilding and constructing rebuttal speeches, and for judges to understand what an RFD entails. (Huge thanks go out to the middle school and high school debaters and coaches who participated in this undertaking.) Find the videos here.
Last but not least, it's always a good idea to start the year by reading through our Handbook and Judges' Instructions. If you missed the earlier email, find the minutes from the June coaches' meeting here and the dues form here.
As always, feel free to email me (jen

posner

ctmsdebate

org) with any questions, concerns or suggestions.