Middle School Debate League Kicks off 2020-21 Season!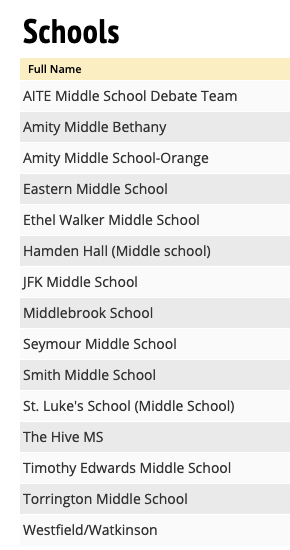 A message from CT Middle School Debate League President, Jennifer Posner…
In our first event of the 2020-21 season, a scrimmage, 187 debaters from 15 schools (see graphic on right) combined into 65 teams to debate the motion:
This House, as Facebook, would ban all political advertising.
Forty-six volunteers judged, including many varsity high school debaters. All demonstrated admirable patience as we worked through technical issues and learned some valuable lessons regarding how to run large online events. We'll be shifting to a new platform for our December 19, 2020, tournament.
The motion for the December 19 tournament will be:
This House believes that televised Presidential debates do more harm than good.
As always, feel free to email me (jen

posner

ctmsdebate

org) with any questions, concerns or suggestions.
I hope to see you in December!