Middle School Debate Holds First Tournament of 2020-21 Season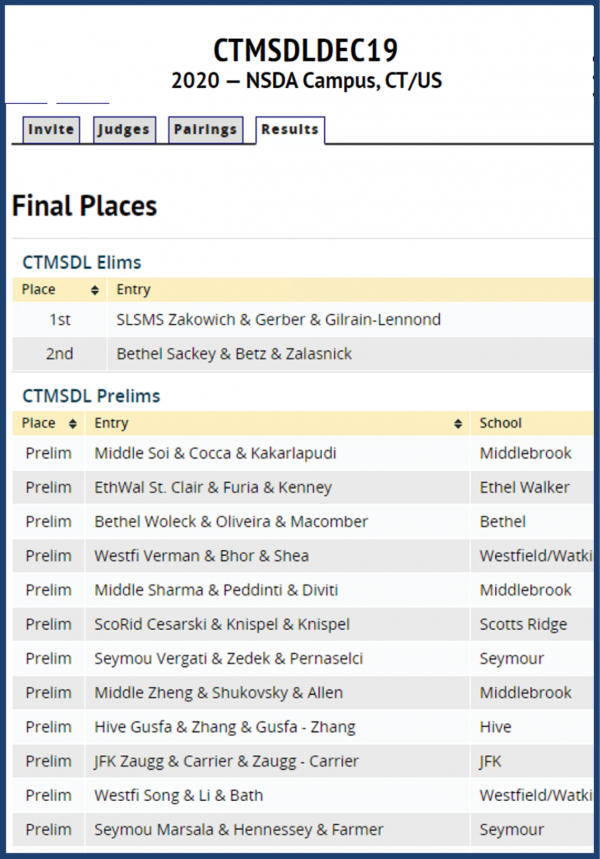 A message from CT Middle School Debate League President, Jennifer Posner…
On Saturday, December 19, 2020, the Connecticut Middle School Debate League held its first competitive tournament of the season, online. Three hundred debaters from nineteen schools combined into 106 teams to debate the motion: This House believes that televised Presidential debates do more harm than good. Proposition prevailed in 55% of the rounds. Results can be accessed at here.
The St. Luke's School team of Zakowich, Gerber and Gilrain-Lennond won the Final Round on Opposition over the Bethel team of Sackey, Betz and Zalasnick. Willa Zalasnick from Bethel was the first place speaker.
This event was made possible by the 86 volunteers who judged and trained to judge! Many thanks to the English Speaking Union, Greenwich Branch for their sponsorship. Huge thanks also to our Middle School debate coaches who spent hours not only coaching, but getting their debaters technology ready. The efforts of Jennifer Hunt, Bruce Johnson, Halle Hunt, Ryan Lafferty, Eliza Posner, Ann Walsh Henderson, and Everett Rutan were invaluable during the tournament.
The motion for the February 27 tournament will be:
This House would ban law enforcement from performing genetic genealogy searches in consumer databases.
As always, feel free to email me (jen

posner

ctmsdebate

org) with any questions, concerns or suggestions.
I hope to see you in February!