The Perils & Pitfalls of Mandated Reporting
On February 25, 2021, CAS hosted a legal webinar on mandated reporting featuring respected education law attorney Michael McKeon from Pullman & Comley, LLC.
The State of Connecticut mandates that school personnel report to the Department of Children and Families within certain strictly enforced timeframes all suspected cases of student negligence and abuse. Over the past few years, there have been arrests of, and criminal proceedings against, school administrators and staff for failing to fulfill these reporting obligations. School personnel have been disciplined, and even discharged, for not reporting neglect or abuse. What, however, constitutes negligence, and what is considered abuse? Is sexting reportable? Should parents whose children are systemically absent or tardy be reported? Who is responsible for calling DCF? Can a school employee be sued by parents for making a DCF report?
In this webinar, Attorney McKeon answers these questions and explores the practical conundrums faced by school personnel in determining their responsibilities as mandated reporters.
Click below to watch "When, What, Who, and Why: The Perils, Pitfalls, and Parameters of Mandated Reporting."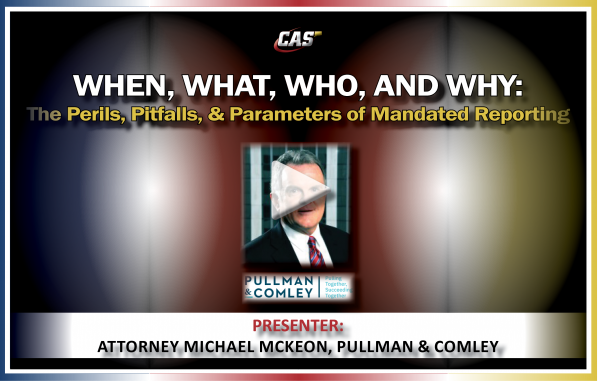 Click HERE to download the webinar PowerPoint.