22nd Annual Elementary Celebration of the Arts
On March 30, 2021, CAS hosted its 22nd Annual Elementary Celebration of the Arts – virtually, of course! One hundred fifty-four students from seventy-eight schools across Connecticut were honored for their achievements in the visual and performing arts. Emceed by CAS Assistant Executive Director Dr. Rosie Vojtek, the hour-long program included remarks from Dee Hansen, president of the CT Arts Administrators Association; a guest appearance by the newly-elected CT Kid Governor®, Reese Naughton; and a dynamic performance by renowned speed artist Rob Surette. The highlight of the evening was the video montage featuring all of this year's outstanding artists! Click below to watch the celebration in its entirety.
Many thanks to our event hosts, Keith McGilvery and Erika Arias from Fox 61 News!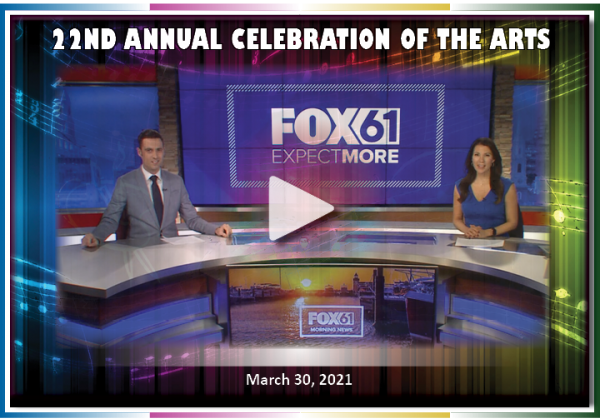 Congratulations to all of our 2021 Elementary Arts Award Recipients!
| | | |
| --- | --- | --- |
| | | |
| Bethlehem Elementary School, Bethlehem (Region 14) | | |
| Fields Memorial School, Bozrah | | |
| Burnham School, Bridgewater (Region 12) | | |
| Edgewood Elementary School, Bristol | | |
| Ellen P. Hubbell Elementary School, Bristol | | |
| Greene-Hills School, Bristol | | |
| Mountain View School, Bristol | | |
| South Side School, Bristol | | |
| Canton Intermediate School, Canton | | |
| Doolittle Elementary School, Cheshire | | |
| George Hersey Robertson Intermediate School, Coventry | | |
| Center Elementary School, East Hampton | | |
| Edgar H. Parkman School, Enfield | | |
| Eli Whitney School, Enfield | | |
| Prudence Crandall School, Enfield | | |
| Essex Elementary School, Essex (Region 4) | | |
| Lee H. Kellogg Elementary School, Falls Village (Region 1) | | |
| East Farms School, Farmington | | |
| Dunbar Hill School, Hamden | | |
| Burr District Elementary School, Higganum (Region 17) | | |
| Haddam-Killingworth Intermediate School, Killingworth (Region 17) | | |
| Killingworth Elementary School, Killingworth (Region 17) | | |
| Salisbury Central School, Lakeville (Region 1) | | |
| Lebanon Elementary School, Lebanon | | |
| Lyme Consolidated School, Lyme (Region 18) | | |
| Elmer Thienes-Mary Hall School, Marlborough | | |
| Benjamin Franklin Elementary School, Meriden | | |
| Northeast Academy Arts Magnet School, Mystic | | |
| Hop Brook Elementary School, Naugatuck | | |
| Maple Hill School, Naugatuck | | |
| Western Elementary School, Naugatuck | | |
| Meeting House Hill School, New Fairfield | | |
| North Canaan Elementary School, North Canaan (Region 1) | | |
| Mile Creek School, Old Lyme (Region 18) | | |
| Race Brook School, Orange | | |
| The Peck Place School, Orange | | |
| Turkey Hill School, Orange | | |
| West Hill Elementary School, Rocky Hill | | |
| Booth Free School, Roxbury (Region 12) | | |
| | | |
| Chatfield-LoPresti Elementary School, Seymour | | |
| Sharon Center School, Sharon (Region 1) | | |
| Booth Hill School, Shelton | | |
| Sunnyside School, Shelton | | |
| Squadron Line School, Simsbury | | |
| Tariffville School, Simsbury (Tariffville) | | |
| Pleasant Valley School, South Windsor | | |
| Derynoski School, Southington | | |
| Flanders Elementary School, Southington | | |
| Hatton Elementary School, Southington | | |
| Oshana Elementary School, Southington | | |
| Reuben E. Thalberg Elementary School, Southington | | |
| Urbin T. Kelley School, Southington | | |
| William M. Strong Elementary School, Southington | | |
| Black Rock School, Thomaston | | |
| Thomaston Center School, Thomaston | | |
| Forbes School, Torrington | | |
| Southwest School, Torrington | | |
| Daniels Farm School, Trumbull | | |
| Center Road School, Vernon | | |
| Lake Street School, Vernon | | |
| | | |
| Mary G. Fritz Elementary School, Wallingford | | |
| Parker Farms School, Wallingford | | |
| Pond Hill School, Wallingford | | |
| Washington Primary School, Washington Depot (Region 12) | | |
| Hopeville Elementary School, Waterbury | | |
| Maloney Interdistrict Magnet School, Waterbury | | |
| Regan Elementary School, Waterbury | | |
| Rotella Interdistrict Magnet School, Waterbury | | |
| Washington Elementary School, Waterbury | | |
| Woodrow Wilson Elementary School, Waterbury | Tiffaney Guevara-Marcelin | |
| Oswegatchie School, Waterford | | |
| Alcott Elementary School, Wolcott | | |
| Frisbie Elementary School, Wolcott | | |
| | | |
| Mitchell Elementary School, Woodbury (Region 14) | | |