Using PIP to Re-engage Students, Accelerate Learning and Award Credit
Personal Interest Projects (PIP) are learning opportunities for middle or high school students to take their own passions and turn them into deep, meaningful and engaging learning experiences. Through a series of scaffolded tasks and independent guided work, students are able to take ownership of their learning and earn credit for doing something they love.
In the 2020-21 school year, Montville High School used PIP to re-engage the students who were struggling the most with online learning, attendance, and school engagement. When PIP was introduced as an alternative for credit attainment, teachers saw a marked increase in attendance and engagement and students were able to earn 1-3 credits for their projects. This year, all students are able to enroll in a PIP course and earn a STEM, Humanities or Elective credit by completing a PIP with teacher guidance.
Middle schools are using PIPs during WIN (What I Need) periods to help students earn credit and get excited about learning. These innovative uses of PIP during the school day have resulted in increased participation in school and students report high levels of satisfaction with this opportunity.
On November 17, 2021, CAS hosted a 1-hour webinar with PIP experts Liz Radday and Matt Mervis from EdAdvance. Liz and Matt talked about the innovative uses of PIP and how students and schools are benefitting, especially in the face of post-pandemic challenges. Joining the conversation were Montville High School teacher Kelly Brooks and three of her students who shared their first-hand experiences with PIP.
Find out how Montville High and other schools are using the Skills21 PIP curriculum and how your district can join in. Click below to watch the session recording!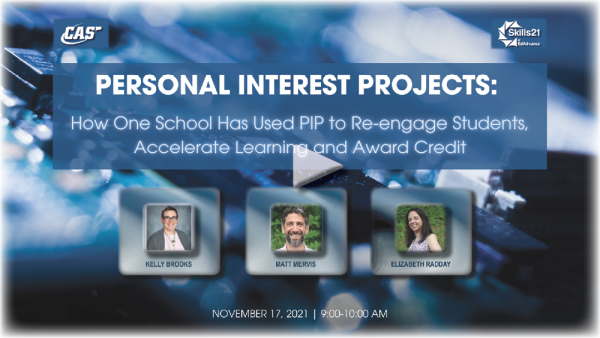 WEBINAR RESOURCES:
PowerPoint slides
21st Century Skills Rubric
Humanities Skills Rubric
STEM Skills Rubric