2022 Education Legislation Update
On September 13, 2022, CAS hosted a legal webinar to update school leaders on education-related legislation passed by the General Assembly in its 2022 session. Attorney Dori Page Antonetti from Shipman & Goodwin LLP provided a rich overview of some of the more significant statutory changes affecting schools. Her presentation also included reminders of new policies that boards of education must adopt (and implement) as of July 1, 2022.
Click below to watch the recording of this engaging and informative webinar.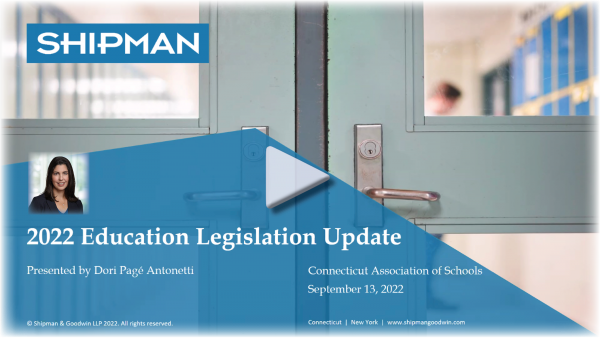 CLICK HERE TO DOWNLOAD THE WEBINAR POWERPOINT.
CLICK HERE TO DOWNLOAD THE 2022 CT EDUCATION LEGISATION SUMMARY.