CAS Announces 2023 Assistant Principals of the Year
The Connecticut Association of Schools is pleased to announce the winners of the 2023 Assistant Principal of the Year Awards. Congratulations to these outstanding administrators!
• ARLETTE JOHNSON, FRANKLIN ELEMENTARY SCHOOL, STRATFORD •
2023 Elementary School Assistant Principal of the Year
• SUZANNE COYNE, WESTERN MIDDLE SCHOOL, GREENWICH •
2023 Middle School Assistant Principal of the Year
• DR. CAROLYN GBUNBLEE, VALLEY REGIONAL HIGH SCHOOL, DEEP RIVER •
2023 High School Assistant Principal of the Year
---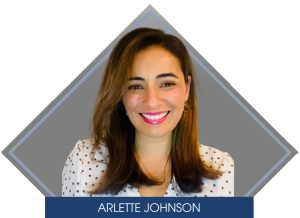 ARLETTE JOHNSON
Arlette Johnson, assistant principal of Franklin Elementary School in Stratford, has been named the 2023 CAS Elementary School Assistant Principal of the Year. "I am living my professional dream," said Johnson when she was informed of her selection. "I feel incredibly blessed to serve alongside a smart and kind group of professionals who care deeply about our Franklin Family. I am honored to have been selected for this prestigious award and proud of the work that our team is doing daily to include, engage and inspire our youth."
Johnson was nominated for the award by Eric Conrad, the principal of Franklin, who praises her "professionalism, enthusiasm, strong instructional leadership skills and deep passion for learning and growth." Dr Uyi Osunde, Stratford Superintendent of Schools, remarks, "Mrs. Johnson brings a professional grace to the work of being a school leader. She carries the banner for us here in Stratford and will carry it with poise and professionalism for the state of Connecticut."
Johnson is a sincere, warm and caring leader whose sunny outlook and upbeat personality have helped foster a vibrant, engaging, student-oriented culture where students can grow socially and emotionally as well as academically. Her joyful and positive presence in the hallways and classrooms of Franklin School lifts moods and sparks smiles from everyone who crosses her path. "Greeting everyone with enthusiasm and spreading joy can be a game changer," says Johnson. "The children's eyes light up with excitement when they see Mrs. Johnson, and they love sharing their day with her because they know she cares," observes second grade teacher Joy Massicotte. Adds parent Joseph Alexis, "Mrs. Johnson is always smiling and energetically interacting with students; she just wants to make kids happy."
Passionate about community-building, Johnson has been a unifying influence and a voice for shared leadership in the Franklin community as well as the larger Stratford district. Lori DiBlasi, assistant principal of neighboring Nichols School, calls her "a powerful force for keeping people connected." Parents appreciate her persistent efforts to maintain open lines of communication, involve them in goings-on at the school, and make them partners in their children's learning. "Parents feel welcome and valued at Franklin. Arlette makes everyone feel that they have a place here," says parent Ivelise Bernard. "She is collaborative, a good listener and a skillful relationship-builder."
Born to a family of educators in Brazil, Johnson has always had a deep appreciation for the importance of school and its impact on a young person's life. Concerned about the short- and long-term consequences of chronic absenteeism, she has made targeted efforts to improve student attendance and engagement at Franklin. The "We missed you in school today" form is used to assess and address factors that contribute to student absences; "Attendance Matters" posters display individual classroom attendance and generate daily conversations between teachers and students; and students are recognized regularly for improved and/or perfect attendance. Last year, thanks in large measure to Johnson's initiatives, Franklin had the best attendance record in the district last year. She continues to monitor attendance data and works closely with the school nurse and social worker to ensure that students are in school every day and receive the supports they need to succeed.
Johnson is a respected instructional leader who models a growth mindset and is able to deftly balance a strong professional focus with a warm personality. Her staff appreciate her adaptability and industriousness, her unflagging optimism and dedication, and her genuine love and concern for every member of the Franklin community. Her positive impact and far-reaching influence are best captured in these words by Massicotte: "In my 40+ years of teaching, I have never seen an administrator more deserving of recognition. I witness first-hand each day her ability to multi-task, help students in need, assist teachers, connect with families and perform her daily responsibilities successfully. I marvel at her endless energy and loving touch."

---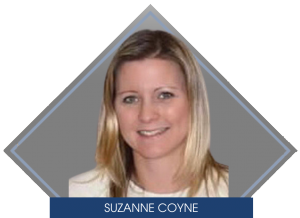 SUZANNE COYNE
Suzanne Coyne, assistant principal of Western Middle School (WMS) in Greenwich, is the 2023 CAS Middle School Assistant Principal of the Year. Upon learning that she had been chosen as this year's winner, Coyne stated, "I am honored to have been selected for this award. It is a reflection of the hard work and dedication of the entire WMS community. I am so lucky to work each day with the students, staff and families at Western. It truly is the most collaborative and supportive environment, and I look forward to continuing to watch all that we accomplish together for our students and families."
Now in her ninth year as assistant principal at WMS, Coyne approaches her work with the same sense of urgency and enthusiasm which she brought to the position upon her appointment in 2014. Coyne beams with pride in her students and staff and with love for her school and community. "I found my home," says Coyne. WMS Principal Gordon Beinstein, who nominated her for the award, states, "Suzanne's tireless work ethic, unbending commitment to our kids, and knowledge of best practice make her an incredible asset to our school community."
Among Coyne's many exceptional leadership skills is her ability to cultivate strong relationships with a diverse stakeholder group. And she applies this skill to nurturing a student-centered, engaging, inclusive and academically rigorous school where student achievement continues to increase; teachers are challenged and supported; and parents are valued partners in their children's education.
The warmth one feels upon entering WMS can be credited in large measure to Coyne. In her daily work, she models the characteristics of kindness, compassion and respect that serve as the foundation of the close-knit learning community she has helped to build at WMS. In her roles as head of the Safe School Climate Committee and as leader of social emotional learning implementation, Coyne has had a powerful role in shaping the school climate and culture. She collects and analyzes school climate survey data to identify areas of strength and areas for growth in maintaining a welcoming, safe, and productive learning environment with high staff and student morale. Coyne led the creation and roll-out of the school's Advisor Base program which provides students with opportunities to build connections with their peers and cultivate stronger relationships with teachers. Says parent Claire Haft, "Suzanne has made Western Middle School one of the warmest and most family feeling environments I have ever seen. It's just an atmosphere that is pervasive, that she commandeers with a big smile."
While her area of expertise is special education, Coyne values the diversity of all learners and makes it her mission to improve outcomes for every child in her care."For Suzanne, all means ALL," says Beinstein. "All students are equal in Suzanne's eyes, whether special education or regular education," adds parent Andrea Falco. She has worked to narrow the opportunity gap, removing barriers for students who have historically been underrepresented in more advanced classes. And, while more than 600 students enter the doors of WMS every day, Coyne somehow manages to be a champion and cheerleader for each and every one of them. "Suzanne's personal and professional investment in her students as individuals inspires them to feel special and capable of achieving anything that they work toward," remarks reading intervention teacher Barbara Jacowleff.
Coyne is a hard-working, conscientious instructional leader with a can-do attitude and a commitment to continuous learning. She encourages teachers to take risks and to think creatively, as long as their focus remains on what is in the best interest of their students. And she always provides the supports they need to try new approaches and pathways to help a child succeed. Her tireless professional support for her staff – from goal-setting to assessment expertise to knowledge of current research – has had a direct and positive impact on student achievement, as evidenced by the dramatic academic gains WMS students have made during her tenure.
Coyne has helped make WMS a model of excellence and inclusion where staff and students love to learn, feel valued and empowered, and move forward together in a spirit of collective caring. Says Jacowleff, "Suzanne shows a genuine concern for the success and well being of everyone in the WMS community. She is a leader who can be counted on to keep us academically and emotionally thriving while building our potential to grow."

---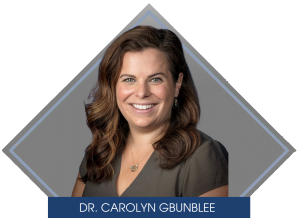 DR. CAROLYN GBUNBLEE
Dr. Carolyn Gbunblee, associate principal of Valley Regional High School (VRHS) in Deep River, has been selected as the 2023 CAS High School Assistant Principal of the Year. Gbunblee was nominated for the award by VRHS Principal Mike Barile and was selected for her commitment to educational equity and her dedication to providing a pathway to success for every one of her students.
"I am thrilled to be recognized as the Connecticut 2023 High School Assistant Principal of the Year,." says Dr. Gbunblee. "I proudly share this honor with students, faculty, staff, administration, parents, and community as their support and passion for education is what makes Valley Regional High School such a wonderful place to teach and learn. I am excited to continue serving our fabulous students and the entire school community."
Gbunblee juggles a myriad of responsibilities and approaches every one, big or small, with a level of preparedness, organization and attention to detail that ensure successful outcomes. She is a constant presence in the hallways and classrooms and is deeply invested and intimately involved in all facets of the school operation. "When Valley Regional students and staff step into the building, we know that Carolyn Gbunblee will be someone we can count on for direction and leadership to greatness," remarks special education teacher Kevin Woods.
Gbunblee has been at the forefront of a number of school improvement initiatives to increase student engagement and maximize learning opportunities for all students. She integrated restorative practices into the student discipline model, resulting in a 41% decrease in student suspensions. She introduced a modified block schedule which allows for common planning time, increased collaboration among teachers and a more holistic approach to meeting students' needs. She was integral in helping VRHS achieve International Baccalaureate certification and continues to see to the program's synthesis and expansion. And, she designed and implemented an innovative flex block structure to facilitate the delivery of Scientific Research-Based Interventions (SRBI). The introduction of flex block had an immediate, positive impact, with a 70% reduction in student failures. Says parent Susan Carpenter, "The ideas and programs that Carolyn has initiated and fostered all steer the organization toward a higher student success rate."
Tech savvy and data-driven, Gbunblee is always looking for ways to use technology to improve student outcomes and facilitate building management. Affectionately referred to as the "Data Queen," Gbunblee constantly reviews and interprets data and uses them as a springboard for accelerating student learning. Says Barile, "Utilizing Carolyn's strong technology skills with PowerSchool, she created a system that allows the school to analyze student performance at the individual, classroom, department, and school levels." Gbunblee also works closely with the district data systems manager to identify school-avoidant students then engages appropriate personnel to address issues of chronic absenteeism.
Gbunblee has made educational equity a priority. She models the values of diversity, equity and inclusion and brings them to bear in all of her decision-making. She introduced culturally responsive teaching practices and supported her staff through their implementation. She has made directed efforts to remove barriers to higher level courses so that all students – regardless of their race, gender, sexual orientation, background or learning needs – have access to classes where they can stretch themselves and grow academically. She has spearheaded the Unified Sports® and Best Buddies programs to help students with unique needs learn skills and at the same time develop meaningful relationships with their regular education peers "Carolyn wants to level the playing field for all students," says Rachael Rose, world language teacher and department coordinator.
Gbunblee continually works to bring organization, innovation and vitality to VRHS, ensuring that classes are filled with engaging activities and emphasizing the importance of driving students towards higher levels of learning. Says Carpenter, "Carolyn has been a catalyst for culture change. Education is everything. If we want a better world, it starts right here with our kids. It's hard work. She's all-in"

---

Assistant Principal of the Year Award Program Background and Selection Procedures
The Assistant Principal of the Year Program, sponsored annually by the Connecticut Association of Schools, was established in 1990 to bring recognition to the assistant principalship and to spotlight the critical role that assistant principals play in the education of our youth. The program recognizes outstanding school assistant principals who have succeeded in providing high quality learning opportunities for students. These administrators have demonstrated excellent leadership, commitment to staff and students, service to their communities, and contributions to the overall profession of educational leadership.
Each year nominations are solicited for an Elementary, Middle, and High School Assistant Principal of the Year. Nominees must submit a written application which is evaluated by a selection committee consisting of active and retired principals and assistant principals. Site visits are conducted at the schools of the two highest rated candidates at each level (elementary, middle and high). Winners are then chosen based upon the outcome of the site visit as well as the quality of the written application. The three individuals selected for recognition are honored by CAS at an awards dinner in the fall. Additionally, the elementary school winner and either the middle school or high school winner, but not both, are recognized at the national level by the National Association of Elementary School Principals (NAESP) and the National Association of Secondary School Principals (NASSP), respectively.