Five Administrators Honored at Annual Membership Reception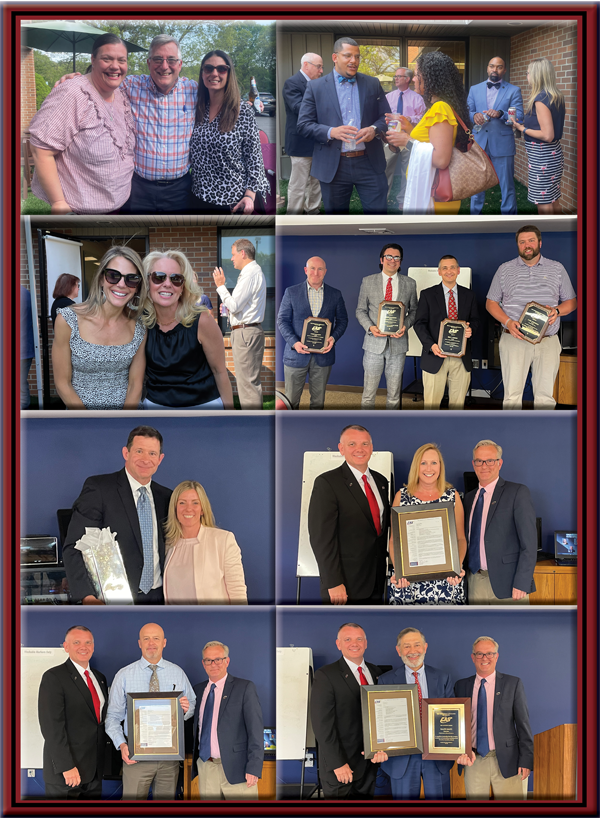 More than sixty colleagues attended the spring membership reception on May 11, 2023, enjoying a short break from the whirlwind of end-of-year events and activities. Formerly a business meeting at which we discharged the duties and responsibilities required by our Constitution, this annual event has been transformed into a relaxing, end-of-the-year reception and awards ceremony.
Dr. Mike Litke, principal of Naubuc School and the 40th president of CAS, opened the program with a reading of "What If…," by Samantha Berger. The reading set the stage for his President's Report, in which he described the ways in which the book's themes of embracing creativity and thinking outside the box fit today's educational environment and, in particular, what CAS has done both during and post-COVID. Said President Litke, "True to the message in Samantha Berger's book, CAS has had to be creative, responsive, and incredibly resilient in recent years. Additionally, like each of you, CAS overcame its many challenges to provide the educational leaders and the students we serve with cutting-edge resources, professional development, advocacy, and opportunity. As a result, 2022-23 has been an outstanding year for CAS and the future is bright."
In his Executive Director's Report, Dr. Glenn Lungarini discussed some of the highlights and challenges of the 2022-23 year, including the transgender athlete eligibility lawsuit and the CIAC Legislative Task Force. He praised the officers and board members who fearlessly surmounted hurdles and embraced opportunities. He also thanked the many school leaders whose dedicated volunteer efforts continue to drive the work of the association.
Following Dr. Lungarini's remarks, President Litke presented distinguished service plaques to outgoing board members. These individuals have either reached the end of their term or are leaving prematurely due to retirement or a job change. This year, nine members were awarded plaques for their service (not all were in attendance):
• Dave Eustis, Xavier High School
• Bob Garry, Hatton Elementary School
• Carl Johnson, Plainville High School
• Eric Larson, Haddam-Killingworth Intermediate School
• Joe Macrino, Oswegatchie Elementary School
• Ralph Mayo, Greenwich High School
• Ken Seltzer, Fairfield Woods Middle School
• Todd Snyder, Dag Hammarskjold Middle School
• Jen Straub, Maloney High School
President Litke also welcomed members who, in the coming school year, will be new to an elected committee or board position.
• New to the CAS Board of Directors are: Marc Balanda, Brookfield High School; Todd Snyder, Dag Hammarskjold Middle School; Terra Tigno, Newington High School; and, Jesse White, Bloomfield High School.
• The CIAC Board of Control welcomes Kristen St. Germaine from Wheeler High School.
• The High School Board has several new additions: Jayme Beckham, Wright Technical High School; Pamela Cavanagh, Windham High School; Greg Hatzis, Fairfield Ludlowe High School; Christopher Rau, Lewis Mills High School; and Sean Tomany, University High School of Science and Engineering.
• New to the Middle Level Board are: Fran Amara, Northwestern Regional Middle School; Garan Mullin, Adams Middle School; Ryan Murphy, Dodd Middle School; and Taylor Wrye, Granby Memorial Middle School.
• The Elementary Board welcomes: Colleen Bava, Kelly Lane Primary School; Garrette Dukette, Helen Baldwin School; Bryan Kerachsky, Skinner Road School, Vernon; and Lauren Reid, Bungay Elementary School.
• The Student Activities Board has several new additions including: Jarrid Clifton, Timothy Edwards Middle School; Alicia Sweet Dawe, Stonington High School; Jen DeRagon, George Hersey Robertson Intermediate; Gina Rivera, Charter Oak International Academy; Stafford Thomas, Staples High School.
• The CLI Advisory Board also has a large influx of new members including: Larry Barlow, Mansfield Middle School; Jayme Beckham, Wright Technical High School; Jennifer Hammer, Eli Terry Elementary School; Kate Lawson, Portland High School; Ken Pierresaint, Torrington Middle School; Dave Roach, Newtown High School; Darry Thomas, Windsor High School; and Victoria White, Shelton High School.
• New to the Nominating Committee are: Bob Garry, Hatton Elementary School; and Donna Hayward, Haddam-Killingworth High School.
• Joining the CAS Awards and Recognition are: Diana Burns, Chapman Elementary School; Rachael Caggiano, Derby Middle School; and Andre Hauser, Amity Regional High School.
The reception concluded with an awards ceremony honoring members who have made extraordinary contributions to the association. This year, four deserving individuals were selected to receive a CAS Letter of Commendation: Kristin Bernier, Thomaston Center School; Joe Macrino, Oswegatchie Elementary School; Matt Ryan, East Hartford High School; and, Amy Yost, Cook Hill Elementary School.
The CAS Citation, the association's highest honor, was awarded to Ralph Mayo, principal of Greenwich High School. Ralph has selflessly served the association since 2000.
The award presentations were made by Matt Walton, associate principal of Old Saybrook Middle School and chair of the CAS Awards and Recognition Committee.