CAS Names 2023 Outstanding First-Year Principals


Cheshire (CT) — The Connecticut Association of Schools (CAS) is pleased to announce the winners of the 2023 William Cieslukowski Outstanding First-Year Principal Awards. CONGRATULATIONS to:
Lisa Romano, Principal – Maple Hill Elementary School, Naugatuck
Larry Barlow, Principal – Mansfield Middle School, Storrs
Debra Lewis, Principal – The Gilbert School, Winsted
As you can see from the summaries below, these recipients have made a tremendous difference in their school communities in just their first year as a principal. We are excited to introduce them to you!
---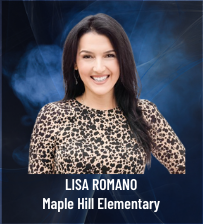 LISA ROMANO
Lisa Romano, principal of Maple Hill Elementary School in Naugatuck, has been recognized for her exceptional leadership and dedication to education by being awarded the Connecticut Association of Schools William Cieslukowski Outstanding First Year Principal award for the Elementary level. This recognition highlights Lisa's commitment to empowering her staff and community members to become champions for students and each other.
In her first year at Maple Hill, Lisa has emphasized distributive leadership, enabling her staff to engage in the development of new initiatives and advocate for the needs of the school community.
Under Lisa's guidance, Maple Hill Elementary School has witnessed significant improvements in student success through the implementation of SRBI cycles, referral programs, and regular reviews of academic and social-emotional progress. She has celebrated the diverse school population by actively involving team members in the goal-setting process in order to set specific milestones for all students and individual and combined subgroups.
Lisa's unwavering support for staff has been instrumental in fostering a positive and thriving school environment. She has organized events, celebrations, and initiatives to boost staff morale and ensure their hard work and successes are recognized throughout the year. From staff shout-outs in morning announcements to staff recognition boards in the building, Lisa has made it a priority to create meaningful ways to appreciate her team. Additionally, Lisa has utilized survey data from families to collaboratively create more opportunities for family involvement and engagement in the school's daily efforts.
Beyond her role as a principal, Lisa Romano has become a beloved figure within the school community. Her interactive morning meetings, where classrooms participate virtually and a co-host is selected each day, set a positive tone for the day and celebrate important events and individuals. Lisa's visibility within the school building and her active participation in district and community events reflect her commitment to maintaining strong relationships as the foundation for shared success.
Lisa's exceptional organizational abilities have revolutionized the school's communication and branding efforts. She has implemented centralized communication hubs, providing easy access to schedules, forms, and essential information, leading to increased efficiency and preventing important matters from falling through the cracks.
The testimonials from staff members at Maple Hill Elementary School in the application speak volumes about her profound impact on the school community. Colleagues commend her positive and infectious love for education, her open-mindedness, and her ability to motivate and empower teachers. Her clear priorities for instruction and her high expectations for everyone have earned her high praise from staff who commend her for being supportive, accessible, and a problem solver.
---
LARRY BARLOW
Mansfield Middle School's principal, Larry Barlow, has been named the 2022-2023 recipient of the William Cieslukowski Outstanding First Year Principal Award for the middle level by the Connecticut Association of Schools. Larry has demonstrated the strength of character necessary to not only continue Mansfield Middle School's successful course but also to reimagine, rework, and push the school to a new level of instructional excellence while leading with an equity and culturally responsive mindset.
Larry's leadership style is rooted in relationships, and he invests in developing strong relationships with the entire school community, including students, staff, and families. He can regularly be found with students and staff during the school day, visiting classrooms, talking with staff and students in the hallways, and coming in person to discuss emails and requests whenever possible. He places great importance on communicating his decisions to those impacted and involved, encouraging collaboration and the exchange of ideas.
Larry has spearheaded Mansfield Middle School's work in Multi-Tiered Systems of Support (MTSS) and is reimagining the school day to better meet the needs of all learners. He has developed a team of stakeholders who meet regularly to analyze current practices and devise plans to support students with the most needs without infringing upon their access to enrichment opportunities. Larry is ensuring that all students are being seen and no one falls through the cracks.
Under Larry's leadership, teachers are collaborating to analyze data in order to personalize students ' learning experiences, maximizing their growth potential better. He allocates faculty and staff time judiciously so that it aligns with each staff member's skills and experiential levels. For example, Larry has prioritized leading staff in trauma-informed practices and has brought in outside consultants to lead them in this work.
Larry consistently demonstrates the qualities of an instructional leader in his daily interactions with students and staff, showcasing a strong grasp of the principles of effective teaching. He firmly believes that a school should actively teach both academic and behavioral expectations, which is why he has been collaborating with the staff to create the Habits of Character as a first step toward implementing PBIS.
As an innovator, he has consistently prioritized establishing more effective partnerships with families since the beginning of his principalship. Larry seeks ways for staff to communicate with families whose first language is not English, and he has embraced "Peace At Home," a resource for families in need of parenting support.
In response to receiving the award, Larry expressed his gratitude, saying, "I am honored and humbled by this award. This year I committed myself to building meaningful, trusting relationships with students, parents and staff. I sought to understand others by listening to their ideas with an open mind. I wanted to gather information and build consensus whenever possible, all in the hopes of building a strong and supportive learning community. Receiving this award affirms my inclinations to empower all members of the community so that we all have a stake in growing our school into a place of productive struggle and kindness. I am looking forward to strengthening my work with CAS, as they have been instrumental in my growth and learning this year as a first year principal. I proudly share this honor with all of those who have helped shape and influence me as a school leader."
---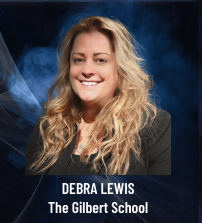 DEBRA LEWIS
Deb Lewis, principal of The Gilbert School, has been selected as the recipient of the William Cieslukowski Outstanding First Year Principal Award for the high school level. This prestigious award recognizes Ms. Lewis's exceptional leadership, dedication to students' needs, and transformative initiatives within the school community.
Since assuming the role of principal, Deb has demonstrated an unwavering commitment to the students and their individual needs. She prioritized academic excellence by first enhancing the welcoming environment for new students, emphasizing a smooth transition, and fostering a sense of belonging. She has consistently placed students first, ensuring their voices are heard and their concerns addressed. Through various recognition programs, perfect attendance awards, and celebrating academic milestones, Deb has created an environment where students feel supported and valued. As a result, an impressive 85% of seniors have applied to and been accepted to college, highlighting the impact of her leadership on student success.
Josh Penn, Physical Education teacher at The Gilbert School and Deb's administrative mentee stated, "Deb is a natural leader. She is able to communicate well with her colleagues, she is amazing at delegating and allowing others in the school to share in her school vision, and lastly, she is the most hard-working person in the school. You can always count on Deb to send a late-night or early-morning email about whatever is going on that day. Her passion not only for The Gilbert School but education, in general, is unmatched by anyone I have worked with."
Under Ms. Lewis's leadership, The Gilbert School has witnessed other achievements and positive changes. The nomination form cited her approach as "much like a coach or mentor." Using this approach, she has revitalized the school climate, building positive relationships with staff and promoting academic excellence throughout the school. By building a cohesive leadership team and implementing team-building activities, she successfully improved faculty and staff morale, leading to a more unified and motivated school community. Through her trust in department chairs, she has empowered them to enact meaningful changes within their respective departments. Recognizing the challenges faced by teachers, she introduced wellness programs to foster a positive work environment and support their well-being. Deb's dedication to open communication is evident through her active engagement with the community using social media platforms and attending local meetings to promote the school and provide updates.
Her leadership exemplifies a visionary approach, willingness to take risks, and resilience in the face of adversity. She continually strives to improve the educational experience for all stakeholders and ensures that every student receives comprehensive support. Along with risk-taking comes conflict and the potential for others to disagree with her approach. Deb weighs the available date and the research and stands behind best practices inb order to affect change. Decisions made have so far only positively impacted students and student achievement.
When told about the award, Deb was elated. "I am very excited and honored to serve as Principal of The Gilbert School and humbled to learn I am this year's Outstanding First Year Principal of the Year recipient. I'd like to thank my admin team for nominating me. We as a school have come together this year and done some amazing work in the academic and school culture arenas, but there is so much more to come. My administrative team and I will continue to make our school the best place to learn and grow for our students and faculty because that is exactly what they deserve: the very best!"
By Tiffany Caouette, Assistant Executive Director