REFRAMING THE CONVERSATION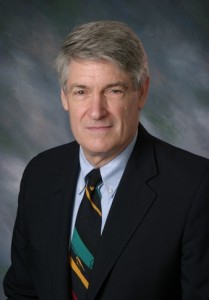 By Dr. Michael Buckley, Assistant Executive Director
It's time to reframe the conversation. I'm tired of hearing about how overwhelmed principals are. Not that they're not excessively burdened. Any school leader worth her salt in 2014 is that and more (and, truth be told, isn't that part of the attraction of the job?). Really, I'm convinced the 2014 CT principal's job is a lot harder than the 2004 CT principal's was (the last time CAS did a formal study of the principalship), and that this has probably been true for each decade since A Nation At Risk was published in the early eighties. Expectations spiral upward; resources wane; efficiency gains from technology come with a price. So what? Let's stop wringing our hands. It's time to embrace the perfect storm of opportunities that accompany the challenges of SEED and CCSS and the positive changes they are beginning to produce in our schools.
Talk to Marty Semmel, principal of Southington High School and his literacy coach, Jen Paul; or to the assistant principal of Consolidated Elementary in New Fairfield, Lynn Fichtel; or to Tracey Clarke, a literacy coach at the Bowers School in Manchester. These four were panelists at the fourth session of the CCSS Leadership Community of Practice (CoP) on January 14th. They'd be pleased to share with you the ways they are connecting the dots between SEED and CCSS, modifying their structures and practices, generating collaboratively determined and practical changes to "business as usual", and, yes, embracing the unique opportunity these mandates provide. Indeed, their positive mindset is representative of the seventy plus participants taking part in this year-long community of practice. CoP members pick the focus* for each monthly session, share what's working (and what's not), and communicate regularly with the CSDE how the work is unfolding and what additional supports are needed.
So what are the outcomes that make the work our principals are presently doing embraceable (meaning both worthwhile and necessary)?
Worthwhile? How about the . . .
• increase in the number of classroom visits conducted by administrators.
• increase in conversations centering on instruction between supervisors and teachers.
• sharper focus on the needs of our most challenged students.
• movement toward ownership of whole school outcomes.
• increased rigor regarding what students should know and be able to do.
• better learning objectives including accountability factors.
Necessary? Remove the mandates of either SEED or CCSS, or both, and consider how different the condition of education in Connecticut would be today from say two, five, or ten years ago. Project ahead three years and answer the same question. As an interested observer of the Teval process in New Haven, I've sensed an evolution from "getting to compliance" in year one to much more "authentic engagement" in year three. I would predict the same result statewide from SEED and CCSS, particularly if the present nascent conversation pertaining to redesigning the job of the principal leads to more tangible results than have been forthcoming from the various commission reports on the topic dating back to Harry Hartley's in the late nineties. When is something substantive going to be removed from the principal's plate? That's where this organization is going to direct its energy as it is only through job redesign that principals will be able to fully meet their responsibilities under SEED and CCSS and the full potential of these initiatives can be realized.
* The next two sessions of the CCSS Leadership Community of Practice (February 25th and March 18th) will focus on best practices re PD and CCSS/SBAC and looking closely at instruction in the CCSS-Aligned classroom. There's still room for new registrants. Contact Erin Guarino eguarino

casciac

org.