CAS Names 2014 Assistant Principals of the Year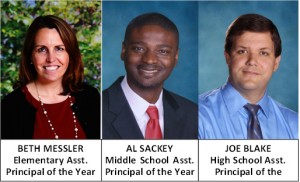 The Connecticut Association of Schools is pleased to announce the winners of the Assistant Principal of the Year Awards. Congratulations to these outstanding administrators!
• Elizabeth Messler, Assistant Principal, Coleytown Elementary School, Westport
  2014 Elementary School Assistant Principal of the Year
• Albert Sackey, Western Middle School, Greenwich
  2014 Middle School Assistant Principal of the Year
• Joseph Blake, Suffield High School
  2014 High School Assistant Principal of the Year
Each year, applications are accepted for the Elementary, Middle, and High School Assistant Principal of the Year awards. The winners are chosen by the CAS Awards and Recognition Committee, a selection committee consisting of active and retired principals and assistant principals.
ELIZABETH MESSLER
Elizabeth Messler, assistant principal of Coleytown Elementary School (CES) in Westport, has been selected as the 2014 CAS Elementary School Assistant Principal of the Year. Nominated for the award by Superintendent of Schools Elliott Landon, Messler was chosen by the selection committee for her purposeful instructional leadership and her uncompromising dedication to her students and school community. A warm, caring and reflective administrator with an unyielding professional focus, she has been a catalyst for change in teaching, learning, and assessment; and her efforts have helped build an engaging, supportive and professional learning community where all students can achieve at high levels.
"It is an honor to be named Connecticut's 2014 Elementary Assistant Principal of the Year," said Messler upon learning of her award. "I am deeply thankful to all of the students, parents, teachers and administrative colleagues that I have worked with over the years in my district. I am inspired by the passion and dedication of those around me, and I look forward to continuing to grow as an educator."
Praised by Principal Janna Bell for her "enthusiasm, dedication, intelligence and professionalism," Messler keeps careful watch for new research and emerging trends in education and is always presenting new information for her staff to consider and digest. Her extensive knowledge of curriculum and pedagogy is surpassed only by her enthusiasm and generosity in sharing that knowledge with others. Messler's commitment to continued professional growth sets a powerful example for her staff and has a positive influence on instruction at CES. Says Bell, "Beth is truly a reflective practitioner and lifelong learner. She is always reading professional literature on leadership, curriculum and community building and sharing ideas of how to utilize her learning in practice. Beth has high expectations for her own practice and actively seeks feedback to improve her work at Coleytown. I cherish our lively debates and discussions as they help to strengthen our leadership team."
A tireless instructional leader, Messler serves as CES' Response to Intervention (RTI) and Curriculum Administrator. With an ever-present focus on teaching and learning, she has helped staff to use assessment data as a tool to accelerate student learning. She instituted data teams which meet regularly to monitor the progress of individual students – as well as the school as a whole – so that curriculum and instruction can be tailored to address weaknesses and capitalize on strengths. Her skilled use of data-driven decision making has helped ensure that all CES stakeholders are consistently engaged in efforts and activities that ultimately lead to increased student achievement.
Messler has been a prominent leader and educational pioneer not only at CES but within the district as a whole. She serves on several district committees and helped spearhead the successful district-wide implementation of new reading and writing units. She was also a key member of the committee which lobbied for and led the district's transition to full-day kindergarten this school year. Remarks Cynthia Gilchrest, director of elementary education, "Beth has not only distinguished herself as an excellent assistant principal, she has established herself as a leader in district initiatives through her extraordinary work on various committees."
Messler graduated from Union College (NY) in 1996 and went on to earn a master's degree in elementary education from Manhattanville College (NY) and a sixth year certification from Sacred Heart University (CT). She has been serving the Westport Public Schools for the past ten years, first as a classroom teacher, then as a math and literacy coordinator and, ultimately, as an assistant principal. She began her career in education in 2002 after leaving a successful career in business to pursue her passion for working with children.
ALBERT SACKEY
Albert Sackey, assistant principal of Western Middle School (WMS) in Greenwich, has been named the 2014 CAS Middle School Assistant Principal of the Year. Described by WMS Principal Gordon Bernstein as "an organized, hard-working, committed visionary," Sackey is a 13-year educator whose successes are founded on his passion for learning, his irrepressible optimism, his human decency and his deep love for children.
Reacting to the news of his award, Sackey remarked, "I feel extremely humbled and blessed to be selected for this prestigious award given the amazing and talented administrators in the state of Connecticut. I am thankful to God for this opportunity and fortunate to work in a district such as Greenwich that has some of the hardest working, skillful and incredibly dedicated administrators, staff and students as well as supportive parents and community. I share this recognition with my wife Anna, our three wonderful children, Konotey, Korkor and Lartiokor, all my students, staff, parents and colleagues."
Sackey is a valued source of guidance and professional support for his teachers, consistently promoting a culture of ongoing learning, cooperation and excellence. States Bernstein, "Al understands that his job is to help teachers improve their practice. While demanding of their best efforts, he is unconditionally supportive." Jarret Pepe, also a fellow assistant principal at WMS, adds, "In today's educational setting, clarity is a tough objective to maintain. Mr. Sackey has provided focus to the staff at WMS through the major changes that have occurred in education over the past years. Mr. Sackey has become the anchor of the building, the person whom everyone feels comfortable approaching because not only does he validate concerns, he solves problems."
Always looking to develop future leaders, Sackey embraces the premise that an important function of leadership is to produce more leaders. He is attuned to the demands of the profession and expertly identifies and encourages staff with strong leadership potential. He has mentored several aspiring administrators, providing study sessions for their 092 exams, bringing them to professional development events, and helping them navigate the certification process.
A lively and purposeful leader, Sackey is committed to providing staff with the support and resources needed to ensure that all students are educated in classrooms where learning is fun and where their individual and collective potential is maximized. With a goal to always be better tomorrow than he is today, he engages daily in an industrious pursuit of new learning opportunities for himself, for his staff and for his students. In the words of 8th grade student Rene Jameson, "Mr. Sackey is a role model to all in the Western community and every year continues to enlighten the students, inspire the teachers and create a cheerful climate at school. Additionally, Mr. Sackey is a passionate vice principal determined to make WMS the best and safest learning facility it can be."
The hallmark of Sackey's career is his belief in every student's capacity to achieve excellence. He displays a deep love of and respect for all of his students, even the most challenging ones."Mr. Sackey believes that all students can succeed, and this message is echoed through all of his actions," says Pepe. As supervisor of WMS' special education department, Sackey has worked with staff to ensure that all students have an assessment-driven individualized success plan. Says science teacher Leeford Dufe, who nominated Sackey for the award, "As a special education expert, Albert's efforts have resulted in improved Individualized Education Programs and more accountability for student achievement. The impact is now our special education students have a much brighter academic future and are better able to achieve their potential."
Sackey graduated from Guilford College (NC) in 1998 with a bachelor of science degree in justice and policy studies. He went on to earn two master's degrees, one in special education from Manhattan College (NY) and the other in school administration and supervision from Mercy College (NY). In 2000, he became a special intervention teacher in the New York City Public Schools and continued there as a special education teacher, supervisor and assistant principal until 2008 when he was appointed to his present position in Greenwich. Sackey is currently completing his work for a doctorate degree in educational leadership, management and policy from Seton Hall University (NJ) with an anticipated graduation date of later this year.
Sackey has been selected by CAS to represent Connecticut in the National Assistant Principal of the Year Program sponsored jointly by the National Association of Secondary School Principals (NASSP) and Virco, Inc. Sackey, along with assistant principals from each of the other fifty states, as well as the District of Columbia and the Department of Defense Education Activity associations, will compete for the national honor.
JOSEPH BLAKE
Joseph Blake, assistant principal of Suffield High School (SHS), has been named the 2014 CAS High School Assistant Principal of the Year. Though an assistant principal at SHS for only two-and-a-half years, Blake's efforts and influence have dramatically shaped the culture and climate of the school and community.
Nominated for the award by his principal, Donna Hayward, Blake is a leader without pretense or self-interest who is known for his equanimity, his unerring professionalism and his resolute commitment to all members of the SHS community. States Guidance Department Chair Ned Sullivan, "Sometimes I forget that Joe has only been here for a few years. His easy-going manner and poise under pressure have impressed me from the start, but his natural people skills – the ability to poke fun at himself and deflect credit for a job well done onto others – is where he really stands out." Blake leads by example, always exhibiting the characteristics of integrity, respect, and kindness that he works to instill in his students on a daily basis. "Joe is honest and ethical, maintaining the highest standards of personal conduct at all times," says Hayward.
Blake is a quietly powerful administrator, as ever ready to learn and listen as to guide and instruct. He empowers his staff to be partners in the decision-making process and works side-by-side with them to develop and implement a vision for improved educational opportunities. He possesses both a strong mind and a compassionate heart, delicately balancing a warm personality with a drive for academic excellence and an insistence on high standards. According to interim assistant principal Dr. Matthew Wlodarczyk, "Joe models personal excellence, collaborative leadership, high regard for curriculum, instruction and assessment, and strives to create a climate embedded with rigor as well as personalization."
Highly visible and wholly immersed in the lives of his students, Blake is a constant presence in the corridors, classrooms and cafeteria. He can also be found at most every school play, concert and sports event, using all available opportunities to interact with and build relationships with his students. Says Hayward, "Joe connects with kids and parents naturally, as his genuine concern for and commitment to students are visible and unwavering."
When handling discipline matters, Blake always works with students and their families to find a resolution that is remedial rather than punitive. He makes sure that every encounter with a student, even if it stems from an adverse incident, is an opportunity for new learning. Says Dr. Wlodarcyzk, "Joe sees the need for consistent discipline with students, but keeps a strong focus on the reason for the discipline – the student's holistic education – and always stresses the learning opportunities in life." Adds SHS Senior Benjamin Gee, "Immediately upon meeting Mr. Blake I thought how comfortable he made me feel as he treated me with singular attention during our conversation, giving me all the respect that one would normally reserve for an adult rather than a young sophomore. This respect is extended not just to me, but to every student, regardless of the nature of his or her interaction."
Since his arrival at SHS in 2011, Blake has introduced a number of new technologies to streamline building management and improve classroom instruction. This past year, he worked with colleagues to guide the staff through a comprehensive technology competencies assessment. The results were used to design individualized online learning activities which helped each teacher to more effectively integrate technology into his/her classroom. Furthermore, he spearheaded the school's transition to online scheduling, resulting in a 29% decrease in scheduling conflicts.
Blake's success as a building administrator is perhaps summarized best in these words by Benjamin Gee, "To me, Mr. Blake's greatest quality is the example he sets for others, particularly the students who have yet to enter the professional world. In Mr. Blake, we see a person we can admire, respect and hope to emulate in the future – I know I do."
Blake received both his bachelor and master of science degrees from Southern CT State University. He went on to earn his sixth year certificate from Sacred Heart University in Fairfield, CT. He began his career in education in 1997 as a teacher at Lafayette Elementary School in Shelton. He quickly transitioned to the high school where he taught social studies for three years and, in 2001, was appointed assistant principal at Torrington High School. In 2004, he became housemaster at Fairfield Ludlowe High School and remained there until 2011 when he assumed the assistant principalship of SHS, the position he now holds.
The State Assistant Principal of the Year Program
In this new era of shared leadership, the assistant principal's role has become multi-dimensional. No longer does the assistant principal only deal with student discipline and attendance. Today's assistant principal is often responsible for curriculum and instruction, staff evaluation, community partnerships, public relations, technology, student activities, and many other crucial areas of operation.
The Assistant Principal of the Year Program, sponsored annually by the Connecticut Association of Schools, was established in 1990 to bring recognition to the assistant principalship and to spotlight the critical role that assistant principals play in the education of our youth. The program recognizes outstanding school assistant principals who have succeeded in providing high quality learning opportunities for students. These administrators have demonstrated excellent leadership, commitment to staff and students, service to their communities, and contributions to the overall profession of educational leadership.
Each year nominations are solicited for an Elementary, Middle Level, and High School Assistant Principal of the Year. The winners are chosen by a selection committee consisting of active and retired principals and assistant principals.
State assistant principals of the year must demonstrate success in the areas of collaborative leadership; personal excellence; curriculum, instruction, and assessment; and personalization.
All applicants must have been in an assistant principalship for two (2) years or longer.
The Connecticut Association of Schools
Established in 1953, the Connecticut Association of Schools (CAS) is a non-profit educational organization which supports the interests of Connecticut's K-12 schools and works to improve educational opportunities for the students of our state. A leader in Connecticut's education community, CAS represents over 800 of Connecticut's public and parochial schools. CAS is affiliated with the National Association of Secondary School Principals, the Association for Middle Level Education, the National Association of Elementary School Principals, and the National Federation of State High School Associations.