CAS Hosts Business-Free Annual Meeting

On May 29th, CAS hosted its 62nd annual meeting, but it was unlike any of the previous sixty-one annual meetings held to date!
Historically, the spring membership meeting has been an event at which we conducted all of the business required by our Constitution – e.g., adoption of bylaw changes, budget, Nominating Committee Report, etc. Thanks to the wonders of technology, we can now handle all of that business electronically. However, we wanted to get our members together nonetheless, as a way of thanking them for their contributions to the association and to our challenging profession. So, we transformed our traditional business meeting into an end-of-the-year celebration and awards ceremony.
The "re-invented" annual meeting carried over some important elements from the past such as the CAS President's Report and the CAS Executive Director's Report. In his remarks, CAS President Fran Kennedy, principal of Berlin High School, called himself "the poster child for CAS" and described the many ways in which the association was invaluable to him. "Everything that CAS has taught me has been directly applicable to improving the school that I serve," said President Kennedy. "CAS affords me frequent opportunities to compare notes and/or solutions with colleagues and benefit from the mutual inspiration. After leaving a CAS meeting, I always feel re-energized and ready to go back in that ring the next day to fight the good fight again. In truth, there is not a chance that I would have lasted 18 years if it were not for the oasis known to me as the Connecticut Association of Schools."
In her executive director's report, Karissa Niehoff recapped the highlights of the 2013-14 school year, a year marked by significant internal and external change as well as organizational and programmatic expansion. She reported that the central office staff engaged in a year-long process of rigorous self-examination, the results of which were "revised mission and belief statements, a well-aligned theory of action, a more sensible organizational structure, and countless critical conversations about the purpose and impact of our programs."
Executive Director Niehoff reflected on the succession of dramatic reforms to which school administrators have been adapting with unshakable fortitude. "Every educational stakeholder group is experiencing anxiety as they each struggle to embrace new ways of thinking and new practices as part of education reform. Within each group there is some degree of overload and overwhelm, but I submit that the group/role that bears the greatest load in this work is the principal," said Executive Director Niehoff. "To say that a principal's job responsibilities are endless is perhaps an epic understatement. Yet through all of the "noise" around reform in Connecticut, you have been arguably the steadiest and strongest…most tireless and tenacious…most relentless and realistic. You have looked not to gripe, but to grow."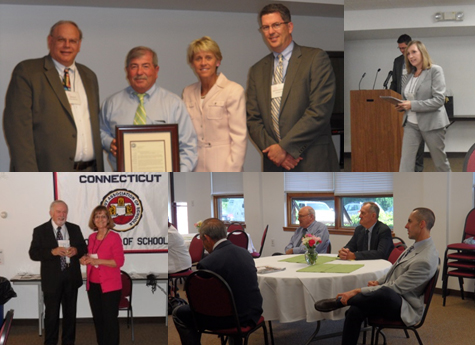 Following Executive Director Niehoff's remarks, President Kennedy presented distinguished service plaques to outgoing board and committee members. These individuals have either reached the end of their term or are leaving prematurely due to retirement or promotion. This year, eleven members were awarded plaques for their service (not all were in attendance):
• Art Arpin, Connecticut International Baccalaureate Academy
• Sally Biggs, Hartford Magnet Trinity College Academy
• Kit Bishop, Daisy Ingraham School
• Joanne Brogis, Retired Assistant Principal
• Karen Fitzsimmons, Louise Duffy Elementary School
• Robert Hale, Jr., Westbrook High School
• Tom McMorran, Joel Barlow High School
• Kristin Reichelt Bernier, Thomaston Center School
• Joe Scheideler, Canton Middle School
• Dan Sullivan, South Windsor High School
• Rick Watson, Albert Griswold Middle School
President Kennedy also welcomed members who, in the coming school year, will be brand new to an elected committee or board position:
• New to the CAS Board of Directors are Lisa Eells from Gaffney Elementary School and Brian Bodner from Daniel Hand High School;
• New to the CIAC Board of Control are Sam Galloway from Bloomfield High School and Drew DiPippo from Canton High School; Drew DiPippo is also joining the High School Board of Control;
• Albert Sackey from Western Middle School is a new member of the Middle School Board;
• Jill Hale of Guilford Lakes Elementary School is a new member of the Elementary School Board;
• There are four first-time board members joining the Connecticut Student Activities Board of Control: Dan Levy from Hamden Middle School; David Telesca from Kaynor Technical High School; Colleen Weiner from Middletown High School; and, Daniel Geraghty from Joel Barlow High School;
• Newcomers to the Principals' Center Board are Deirdre Preis from Fairfield Warde, Julio Duarte from Conard High and Alice Jones from Woodbury Middle School; and,
• The Eligibility Review Board welcomes Sheila Williams from Platt Technical High School and Jennifer Straub from Maloney High School.
The reception concluded with an awards ceremony honoring members who have made extraordinary and long-term contributions to the association. This year, four deserving individuals were selected to receive a CAS Letter of Commendation: Missy Bavaro-Grande, principal of East Granby Middle School; Karen Fitzsimmons, principal of Duffy Elementary School; Mike Pitruzzello, athletic director of Middletown High School; and, Rick Watson, principal of Griswold Middle School. Unfortunately, Karen and Rick were unable to be in attendance but will receive their award on a future occasion.
CAS Assistant Executive Director Earle Bidwell presented CSDE Arts Education Consultant Scott Schuler with a plaque in honor of his many years of selfless dedication to promoting the arts in Connecticut.
President Fran Kennedy was awarded a CAS Citation, the association's highest honor. In presenting the award, Awards and Recognition Committee Chair Bob Hale, Jr., stated, "There are only a handful of administrators in our rich history who have believed so passionately in our mission, invested so deeply in our work, or contributed so integrally to our success. Your long-standing and broad-ranging contributions to this association demonstrate an enduring dedication to our profession and to the leaders like yourself who commit themselves so fully to it."
To commemorate the end of his two-year term, President Kennedy received a gavel from incoming president Donna Schilke who remarked, "Throughout your tenure, you have been a model of ethical leadership, intellectual ability, advocacy and service. We in this room, and dozens of other administrators around the state, are the grateful beneficiaries of your positive influence, your goodwill, your consideration for your colleagues and your professionalism. We thank you for the many ways in which you have advanced the association these past two years."
The video clip above offers a small glimpse of the myriad activities and events sponsored by CAS during the 2013-2014 year.
In honor of the annual meeting, each division was asked to prepare an end-of-the-year report reflecting its highlights for the 2013-2014 year. Those reports are available at the links below.
Annual Reports:
CIAC Board of Control
CSAC Board of Control
Elementary Board of Control
High School Board of Control
Middle School Board of Control
Principals' Center Board of Control