2015 Governor's Scholars Honored
Thirty of Connecticut's top juniors were honored at the Nineteenth Annual Governor's Scholars Luncheon at the Aqua Turf on May 21, 2015. Sponsored by CAS, the purpose of this program is to recognize high-achieving, academically gifted students in high schools throughout the state.
Each of the CAS member high schools may nominate one junior in the top 5% of his/her class to enter the Governor's Scholars competition. This year, each nominated student responded in writing to the essay prompt, "Identify a recent controversy in which individuals' interests or rights were at odds with the beliefs of the majority. With respect to that controversy, take a position as to whether or not society successfully balanced the rights of individuals and the rights of the majority. Explain your position." Members of the Governor's Scholars Committee, educators throughout Connecticut, chose scholars on the basis of their response to this prompt as well as other factors such as class rank and grade point average. In addition to receiving a plaque, each Governor's Scholar is offered numerous gratis academic opportunities by various colleges and universities throughout the state; and, each Governor's Scholar may be eligible for a University of Connecticut Academic Excellence Scholarship.
Donna Schilke, president of the Connecticut Association of Schools and principal of Smith Middle School in Glastonbury welcomed guests and the scholars and their families, describing the demanding selection criteria for the award: "The competition, since almost every high school nominates a candidate, is intense; and the process leads to the selection of an elite group designated as Governors' Scholars." Dianna Wentzell, Connecticut's Commissioner of Education, congratulated the scholars and expressed the hope that they would make important contributions throughout their lives.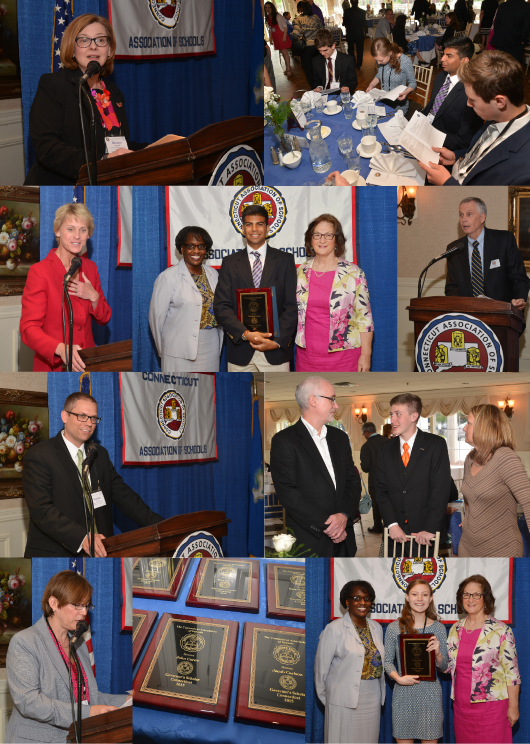 Congratulations to the 2015 Connecticut Governor's Scholars:
Prathamesh Bang, South Windsor High School
Emily Berzolla, Greenwich High School
Joyce Bian, Hamden High School
Patricia Brosseau, RHAM High School, Hebron
John Carew, Northwest Catholic High School, West Hartford
Jacob Carlson, Robert E. Fitch High School, Groton
Robert Castle, Ridgefield High School
Georgina Colon, Henry Abbott Technical High School, Danbury
Carter Dizes, Wethersfield High School
Anis Ehsani, Conard High School, West Hartford
Nathan Friday, Rocky Hill High School
Jonah Garcia, Granby Memorial High School
Abhishek Gupta, Xavier High School, Middletown
Amit Gupta, Masuk High School, Monroe
Ryan Harty, Lyme-Old Lyme High School, Old Lyme
Kara Heilemann, Woodstock Academy
Danielle Hoffman, Farmington High School
Kenny Hong, Norwich Free Academy
Cole Horton, Guilford High School
Lillian Kirby, Branford High School
Jessica Kobsa, Wilton High School
Sean McCoy, Immaculate High School, Danbury
Namrata Ramakrishna, Stamford High School
Durga Rathi, Cheshire High School
Jane Reed, New Canaan High School
Stephanie Santillo, Sheehan High School, Wallingford
Caroline Sarda, Academy of Our Lady of Mercy – Lauralton Hall, Milford
Sarah Schatz, E.O. Smith High School, Storrs
Nicholas Serrambana, Classical Magnet School, Hartford
Kristen Whalen, Plainville High School
By Tim Breslin, Assistant Executive Director