Middle School Debate Tournament Draws Record Numbers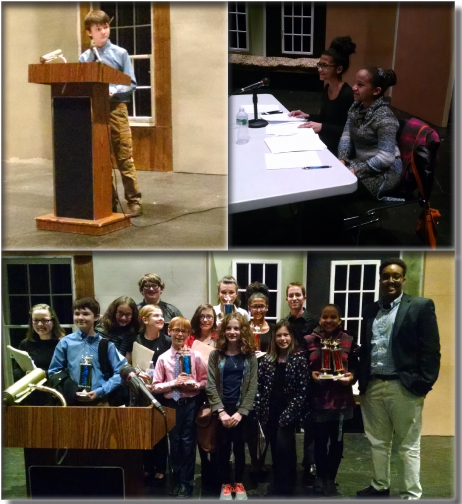 By Jennifer Posner, CTMSDL
On Saturday, November 21st, one hundred and fifty nine debaters from fifteen Connecticut schools debated the motion:
This House would establish a program to revive extinct species and re-introduce them into the environment.
Earning spots in the final round after three rounds of debate were two Greater Hartford Academy of the Arts teams. Aiden Gillies, Anni Ciarcia and Gavin Anderson took first place. Samantha Acosta and Weimy Montero finished second. Ruth Mercedes, Meredith Macey and Phoebe Kurth from St. Luke's School placed third. Amelie Warneryd from St. Luke's School earned the top speaker award. Deidre Chill from Westfield Academy placed second and Wendy Zhang from Amity Middle School was third.
Click here for complete tournament results.
Thank you to TJ Noel-Sullivan and the Classical Magnet School in Hartford for hosting the CT Middle School Debate League's largest tournament to date and to the Greenwich Branch of the English Speaking Union for sponsoring the League.
The next tournament will be held on Saturday, January 23, 2016, at Eastern Middle School in Greenwich. The snow date is January 30th. Click here for more information.
Please contact jen

posner

ctmsdebate

org with questions and suggestions.